WSF World Strongmen Championships in Abu Dhabi Set for Live TV Broadcast
"We have a big success in Abu Dhabi: WSF as organizer in cooperation with Asian Strongmen Federation and Dar Al Hai present this contest in UAE: 2012 WSF World Strongmen Championship under the patronage of His Highness Sheikh Hamdan Bin Mahammed Bin Hamdan Al Nahyan will be broadcast on Abu Dhabi Sport TV live all days and on Dubai Sport TV there will be 3 programs," WSF founder Vlad Redkin told IronMind today.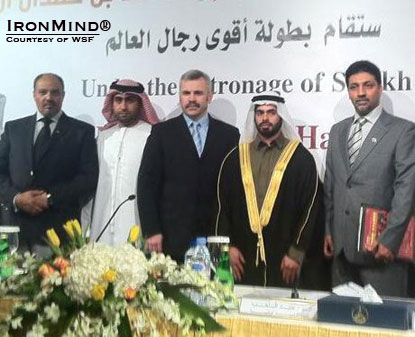 Vlad Redkin (third from left) with Sheikh Hamdan bin Mohammed bin Hamdan Al Nahyan (fourth from left), sponsor of the 2012 WSF Strongman Championships, February 11–13 in Abu Dhabi. IronMind® | Courtesy of WSF.


There have been some changes since this contest was first announced and here are the latest details.

Final list of athletes:

Josh Thighpen - USA
Elbrus Nigmatullin - Kazakhstan
Alexsandr Lashyn - Ukraine
Tarmo Mitt - Estonia
Antanas Abrutis - Lithuania
Farzad Mousukhani - Iran
Stefán Sölvi Pétursson - Iceland (changed Maleki from Iran)
Vladimir Rizov - Bulgaria
Krzysztof Radzikowski - Poland
Gregor Stegnar - Slovenia
Mika Jaakola - Finland
Kevin Nee - USA
Laurence Shahlai - UK
Marc Wells - Australia
Richard van der Linden - Holland
Mark Felix - UK
Alex Lapyrov- Belarus
Ricardo Nort - Brazilia
Sergey Trubicin - Uzbekistan
Vusal Mardanov - Azerbajan
Rolands Gulbis - Latvia
Adam Darasz - Hungary
Aleksander Mantserov - Russia
Juango Diaz Garsia - Spain
Nicolai Hansen - Denmark

And final list of events:

Day 1: 25 Athletes
Log lift: 125 kg for reps
Farmer's Walk: time, 160kg, 50m
Shield: 150kg for distance
Tire Flips: 320 kg, time, 20m
Duckwalk Medley: 220, 240, 260kg – 40m

Day 2: 15 athletes (semi-final)
Apollon Axle: reps
Arm-over-Arm Bus Pull: time, 20m
IronMind Sandbag Loading: 3 x120 kg
Super Yoke: time, 350kg, 25m
Conan wheel – 350 kg

Day 3: 8 athletes (FINAL)
Apollon's Axle: max
Sandbags + Duckwalk + Tires: time, 50 m
Truck pull: time, 25 m
Deadlift: 300 kg, reps
Farmer's Walk: distance, 160 kg

There has been a story floating around the internet describing this as the World's Strongest Man contest, which, of course, it is not, so IronMind asked Redkin to address this error, which might stem from the loose use of the words World's Strongest Men on the ASF (Asia Strongmen Federation) website.

Clear that he understands the difference, Redkin told IronMind, "I am not using the WSM logo and in my opinion, WSM is the most famous competition in world and I would be happy to work with this greatest competition. [It would be an] honor for me to receive possibilities to organize a qualification tour in the future!"

Regardless of whether that happens, though, Redkin is pleased with what he has accomplished so far with the 2012 WSF World Strongmen Championships:

"We are waiting our celebration! A lot of people will come and see this contest. It will be first time in Abu Dhabi and we have as our special guest Rafael Santonja, IFBB president, who will come and support us as our friend!"

###



The IronMind Forum: discuss this article, talk strength, get help with your training.

You can also follow IronMind on Twitter.