"We started the new 2011/2012 season of WSF World Cup and have agreement between eight countries," Vlad Redkin told IronMind today.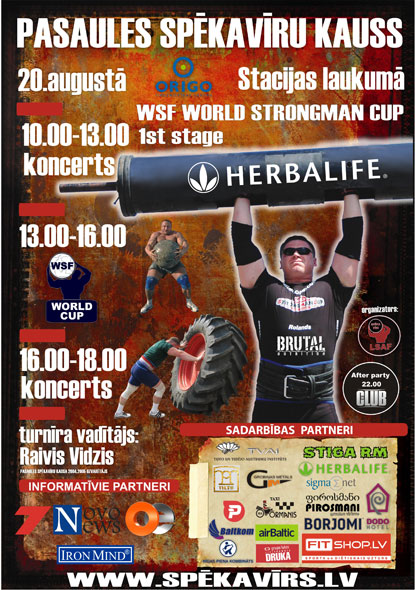 WSF World Cup has announced an upcoming series of strongman contests, beginning on August 20 in Riga, Latvia. IronMind® | Courtesy of WSF World Cup.


"And great support we have from Jyrki Rantanen (Finland). He is very active and will be one of WSF World Cup manager. And the name of this season (the honorary president) is Vasyl Virastyuk (Ukraine)–the World's Strongest Man. I hope he will support our project," said Redkin.

Competitors

1. Alexander Lashyn (Ukraine)
2. Tarmo Mitt (Estonia)
3. Evgeny Shcherbakov (Latvia)
4. Jarno Jokinen (Finland)
5. Antanas Abrutis (Lithuania)
6. Sergey Makarenko (Belarus)
7. Kote Janashia (Georgia)
8. Rolands Gulbis (Latvia)
9. Olimjon Kholliev (Uzbekistan)
10. Javohir Arslanov (Uzbekistan)
11. Sergii Koniushhok (Ukraine)

Events

• Farmer's walk: 2 x140 kg; 40–50m
• Medley: Dumbbell (72 kg), Axle (120 kg), Log (130 kg), Log (150 kg)
• Medley: Duck walk (200 kg, 20m), Tires Flips (320 kg x 8 times)
• Conan's Wheel: 350 kg
• Manhood Stone: 180 kg for reps, 140 cm

Referees: Vladislav Redkin, Jyrki Rantanen.

"We are looking new talent, new faces in strongmen sport. We plan to invite elite strongmen also of course. We will film all and broadcast it in 8 countries at first; next step will be worldwide broadcasting. We know how do it," said Redkin.

###

The IronMind Forum: discuss this article, talk strength, get help with your training.

You can also follow IronMind on Twitter.