Vlad Redkin told IronMind that "Gökhan Sonbahar—Head of WSF & IMWF in Turkey," is organizing a strongman contest in Denizli on October 12–13.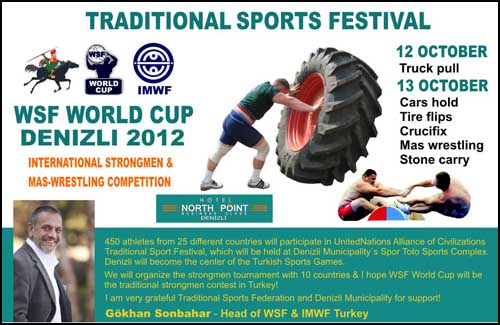 In a collaborative effort, WSF is bringing strongman to a multi-sport festival in Denizli, Turkey. IronMind® | Courtesy of WSF.




As IronMind understands it, this strongman competition is part of a larger "Traditional Sports Festival" which will feature "450 athletes from 25 different countries," according to the promotional material.

Here is the official start list:

1. Tarmo Mitt (Estonia)
2. Bartalomei Bak (Poland)
3. Antanas Abrutis (Lithuania)
4. Rolands Gulbis (Latvia)
5. Sergiu Mirzenko (Moldova)
6. Hamza Primov (Uzbekistan)
7. Volodimir Reksha (Ukraine)
8. Nicky Whelan (Ireland)
9. Vusal Mordanov (Azerbaijan)
10. Giorgi Doinjashvili (Georgia)
This is a two-day strongman competition, Redkin said, with a Truck Pull on the first day, and five events on the second day:

• Car Hold
• Tire Flip
• Crucifix
• Mas Wrestling
• Stone Carry

"We will organize the strongmen tournament with 10 countries and I hope WSF World Cup will be the traditional strongmen contest in Turkey," Redkin told IronMind.

"I am very grateful to the Traditional Sports Federation and Denizli municipality for their support," said Redkin.




###

The IronMind Forum: discuss this article, talk strength, get help with your training.

You can also follow IronMind on Twitter.