WSF Launching International Strongman Series: First Stop is Holland
"Very soon, WSF go to Holland!," Vlad Redkin told IronMind as he announced that on June 10 he is holding a "stage of WSF World Cup in Hoofddorp (Netherlands)," with Richard van der Linden as the promoter.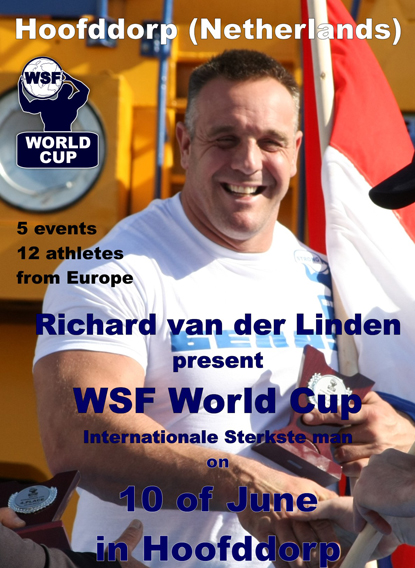 World Strongman Federation (WSF) is coming to Holland, according to plans announced by Vlad Redkin. IronMind® | Image courtesy of WSF.


Here is the official list of events:


• Truck Pull
• Loglift on repetition with 135 kg
• Medley consisting of a yoke about 20m, 8x Wheel Flip, and a barrel or 100kg
• Farmers 40m with 145kg
• Stones of Strength

Redkin told IronMind that he would draw strongman competitors from the following countries:

• Nederland
• Sweden
• Bulgaria
• Latvia
• France
• Lithuania
• Hungary
• Armenia
• Georgia
• Poland

"This competition will fall under a series that is held in different countries. Richard van der Linden will represent the Netherlands among others here in his hometown.

"The organization expects a large turnout of audience and goes out of about 8000 spectators. Contest will be filmed and will broadcast in European TV channels. 


"In May to September there are 6-8 games under the flag of the WSF held [and] at the end of the year in the United Emirates, the last race of 2012," said Redkin.

###

The IronMind Forum: discuss this article, talk strength, get help with your training.

You can also follow IronMind on Twitter.