WHEA Grip Returns to Live Competition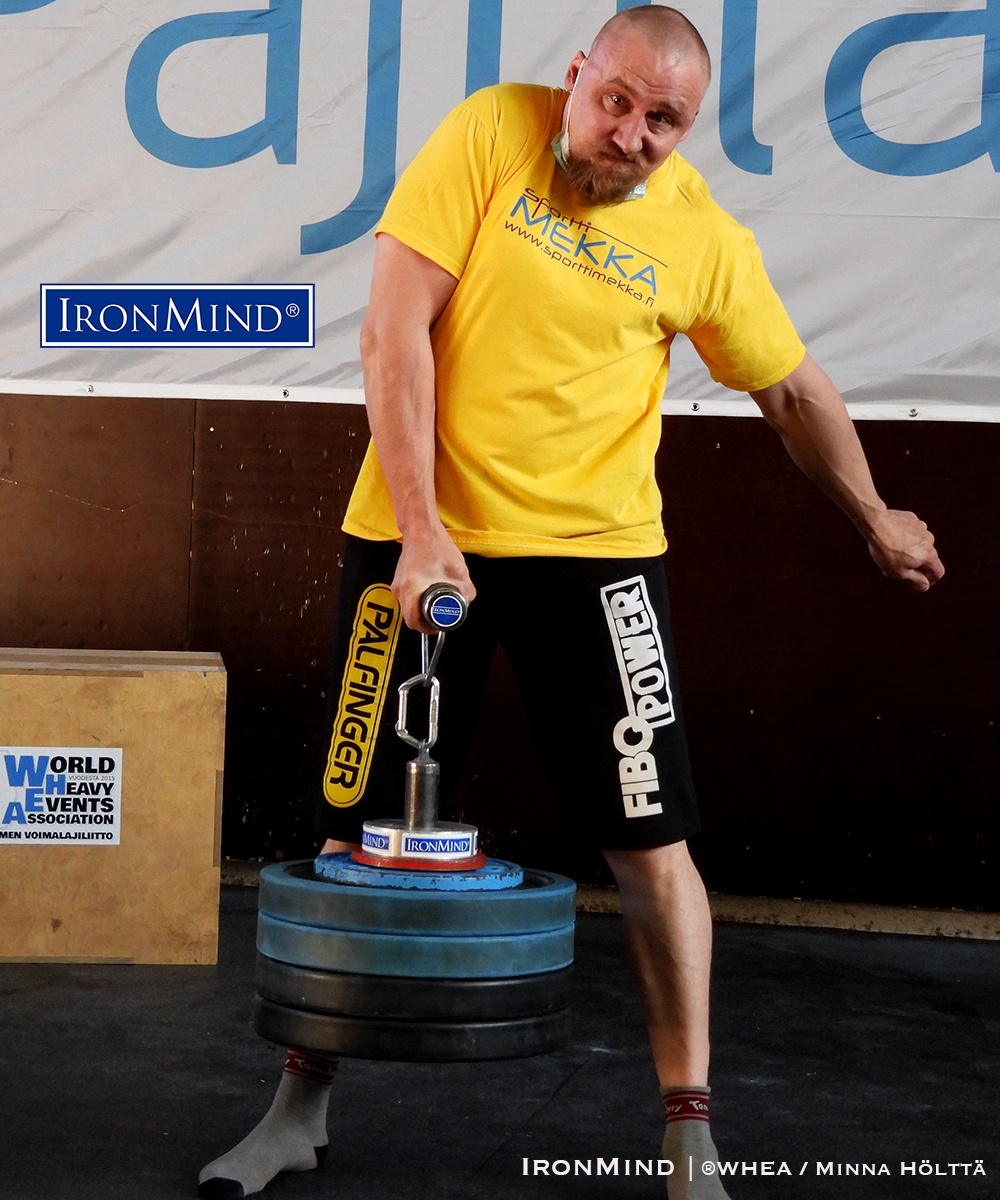 "The covid situation has made a lot of harm to our events during 2020 and this year, but we were happy that we were able to organize the 2021 WHEA Finnish Grip Nationals safely, and we have more events on the calendar for later this year," Jyrki Rantanen told IronMind.
"The Finnish Grip nationals (WHEA) were held in Pajulahti Olympic Training center under strict security rules due the covid situation (no audience, masks in use except in lifting etc).
"The events of the competition were IronMind´s Apollon's Axle, Rolling Thunder, Little Big Horn and CoCSilver Bullet, along with WHEA´s scale press and Saxon bar lift.
"We had over 40 athletes signed in to the competition, so the event was run in 10-lifter groups to make sure we could closely follow the safety guidelines.
"We witnessed some very promising newcomers on stage along with several national records and the toughest battle was in the men's open class between Jesse Pynnönen and Harri Tolonen, who edged out Jesse by 0,5 its in the overall competition.
"At first, both men equaled the new Finnish record in the Rolling Thunder by successful lifts with 107,5kg and they were followed by Tomi Tuomi (3rd in overall) by the lift of 105kg, so it was already the toughest Rolling Thunder competition in Finnish soil ever.
"The battle continued in the Saxon bar (80mm), where one of the newcomers - Jesse Thomasfalk cut between Harri and Jesse (110, 112,5, 107,5kg).
"In IronMind Little Big Horn Pynnönen was the king with easy 90kg lift against Tolonen´s 87,5kg and the competition continued to Apollon´s Axle where Pynnönen again took the 1st spot with a successful lift of 197,5kg. He also tried new national record of 205kg (202,5 is the record), but the day was not right for it. 2nd was Tuomi with success in 190kg and he did very good attempt with 200, too.


"In the scale press Tolonen took back his status as a top man by crushing 262,15kg against 236,9kg by Pynnönen and 249,6kg by Tuomi along with Thomasfalk 257,55kg.


"After the points closing in that event, it all came down to IronMind´s CoC Silver Bullet, where 4 men took time with Captains of Crush (CoC) No. 4 gripper! This event was won by Tuomi with the time of 22,59 sec and followed by Pynnönen and Tolonen.
"So, in the end mens open class ended to the order 1. Harri Tolonen 12 pts, Jesse Pynnönen 12,5 pts, Tomi Tuomi 16,5 pts.
"Winners of the other categories were:

W-55kg Heli Heikkinen, W-65kg Aino Askala, W-75kg Irina Laasala, W75+kg Jaana Tanner
M-70kg Raimo Myllynen, M-85kg Johannes Lampinen, M-100 Jouni Mähönen, M100+kg Harri Tolonen
"Here is the link to a video of Harri's scale press.
"It was also pleasure to see a lot of new names in our contest and we expect to see a lot more next year, once we get our grip contest again to the national TV as a part of "nationals week" by Finnish Olympic Committee." WHEA was very happy to be able to run this event safely and we look forward towards WHEA World Grip Championships in Norway at November, so we again will see, who has the worlds strongest grip?," Rantanen said.
###



You can also follow IronMind on Twitter, Instagram and on Facebook. 


Want to talk grip, strongman, weightlifting . . . everything strength? Visit the IronMind Forum.