Vladimir Smorchkov Wins the 105s
Bucharest - The man once best known for grabbing medals even though he was lifting in the B session was front and center today: Vladimir Smorchkov (Russia) handily won the snatch, took the bronze medal in the clean and jerk, and pocketed the gold medal in the total.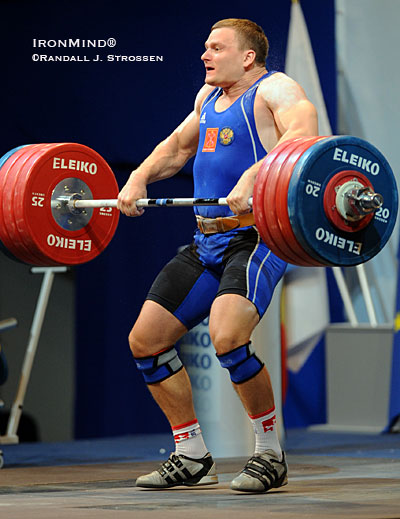 Vladimir Smorchkov pulls himself under this 221-kg clean and jerk in the 105-kg class at the European Weightlifting Championships. IronMind® | Randall J. Strossen photo.


Even if Smorchkov had the snatch to himself, it was a dogfight below the top position, with three kilos separating the next six lifters. Smorchkov's teammate, Roman Konstnatinov, made three good attempts, finishing with a best lift of 183 kg for the silver medal. Ramunas Vysniauskas (Lithuania), lifting with great restraint compared to some of his past performances, got the bronze medal for his only successful lift, 182 kg on his second attempt.

Smorchkov made 217 kg on his opening clean and jerk, a little shaky overhead, but a good lift, and had 221 turned down two-to-one on his second attempt. He repeated with the same weight for three whites on his third attempt. Konstantinov missed the jerk with 222 on his second attempt, Robert Dolega (Poland) deadlifted the same weight on his third attempt, and then Konstantinov failed to rack it on his final attempt.

Vysniauskas, who had been waiting in the wings, opened with 223 kg, which would put him in second place overall, and he made a good lift - once again, nearly stoic by his historical standards. Oleksiy Torokhtiy (Ukraine), who had made 213 kg and had 220 kg turned down two-to-one, punched 224 overhead with a quick, shallow power jerk, for gold medal position in the jerk and silver medal position in the total. Vyniauskas took two shots at 225 kg, looking to overtake Torokhtiy, but he couldn't clean it on his second attempt and only deadlifted it on his third attempt.