Vitautas Lalas Wins Giant Live - Poland, Qualifies for World's Strongest Man
Lithuania is about to present another huge talent to the 2010 World's Strongest Man (WSM) contest, as Vitautas Lalas won the final WSM qualifier, Giants Live - Poland, with a most impressive performance and thereby earning a coveted invitation to the king of strongman contests.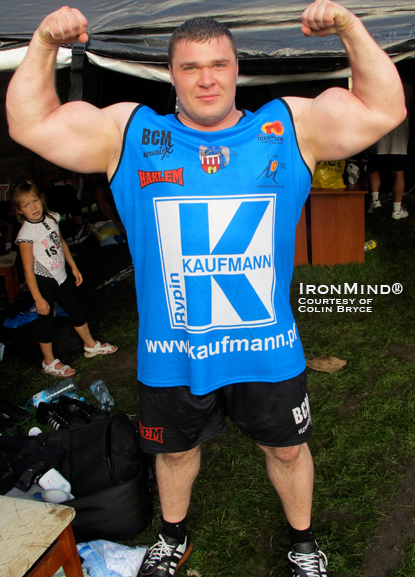 Sure, he's got big arms, but get this: strongman Vitautas Lalas says he can squat 300 kg x 20 reps, and after watching him win the Giants Live–Poland strongman competition this past weekend, Colin Bryce became a believer. IronMind® | Photo courtesy of Colin Bryce.



With WSM 2010 coming up fast, Giants Live–Poland took on added significance and the top three finishers earned the most coveted invitation in strongman. Here are the official places and points:

| | | |
| --- | --- | --- |
| 1. | Vitautas Lalas* | 73 |
| 2. | Robert Szczeepanksi* | 72 |
| 3. | Janusz Kulaga* | 70 |
| 4. | Slawomir Toczek | 62 |
| 5. | Daren Sadler | 49 |
| 6. | Agris Kazelniks | 46 |
*qualified for World's Strongest Man 2010

Giants Live director Colin Bryce summed things by saying, "The contest was excellent. The top three are going to WSM," and as Bryce noted, "All three are new faces to World's Strongest Man."

"Lalas was AWESOME, to say the least," Bryce reported. "When he told me he had won the Lithuanian Nationals the week before, over [Vidas] Blekaitis, I knew he was strong. But I didn't believe him when he said he did 20 reps with 300 kg in the squat. Well guess what–this guy could run through walls if he wanted to. He is absolute dynamite."

Putting Lalas's victory in context, Bryce explained: "He is a static strongman who took the Poles on in what was a very mobile contest and won. As for his mental strength, he was still down in third [place] going into the truck pull, the last event, and he pulled out a victory over Kulaga and Sczcepanski for the overall win."

Speaking of the third man to qualify for WSM 2010, Bryce said, "Kaluga reminds me of a cross between Mariusz [Pudzianowski] and the late, great Jesse Marunde: very explosive and a big hit with the girls, too!"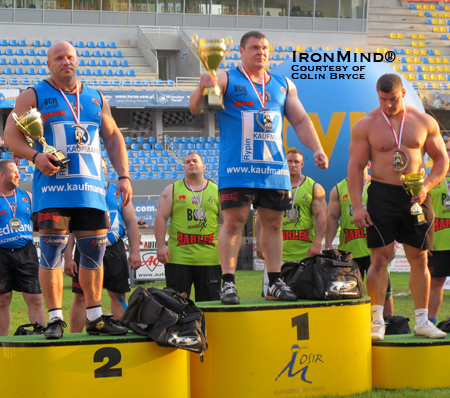 The podium at Giants Live–Poland (left to right): Robert Szczepanksi (third), Vitautas Lalas (winner) and Janusz Kulaga (third). IronMind® | Photo courtesy of Colin Bryce.



 


Want to talk strength? Join the IronMind® Forum!

You can also follow IronMind® on Twitter.