Virtanen and Pudzianowski Will Head Field at Muscle Beach
With former World's Strongest Man winners Janne Virtanen (Finland) and Mariusz Pudzianowski (Poland) heading the field, the World's Strongest Man Super Series strongman contest at Muscle Beach (Venice, California) on June 18th is guaranteed to be a marquee event.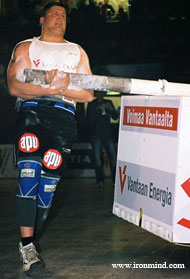 Janne "The Flying Finn" Virtanen is one of two World's Strongest Man winners who will be competing at Muscle Beach on June 18th. IronMind® | Randall J. Strossen, Ph.D. photo (Vantaa, Finland).

The field will be vying for US$25,000 in prize money and a step toward an invitation to the 2005 World's Strongest Man contest.

The events are:

1. 12-inch log: for maximum weight
2. Farmer's walk: 175 kg per hand for maximum distance in 60 seconds
3. Stone loading: six stones, ranging from 140 kg to the never-been-loaded-in-a-series 190-kg Tombstone
4. Yoke: 900 pounds, for time
5. Giant Fishing Pole: maximum weight
6. Medley: tire flip, barrel and sandbag loading, power stairs

Here's your chance to see a couple of World's Strongest Man winners burn up the boardwalk at Muscle Beach, so mark your calendar for June 18 and plan to be there.