Update from Svend Karlsen: Norway's Strongest Man/Viking Power Challenge/A Life in Power
"My kidney transplant has been unbelievable," Svend 'Viking' Karlsen told IronMind® today. "I have a feeling I haven't had for years."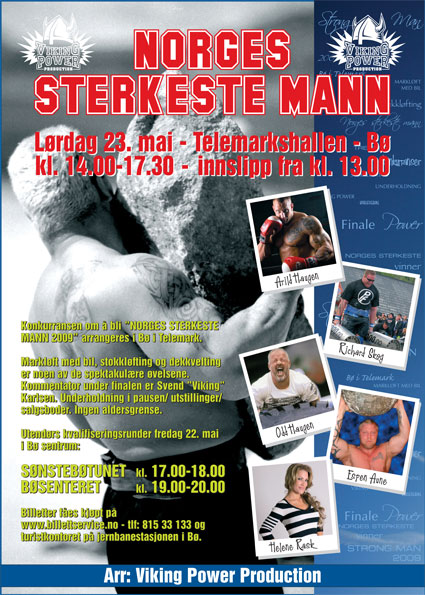 Norway's Strongest Man, Viking Power Challenge and World's Strongest Man - all three are connected and the race begins on May 23. IronMind® | Artwork courtesy of Svend 'Viking' Karlsen.

That feeling is one of good health and high energy levels, the Viking explained. "Everything day to day - walking, running - is easy now; I don't get tired. It's a new spring for me."

After going through dialysis 972 times, Viking said that it was almost worth it: "It's like beating your head against a wall for 14 months . . . it feels so good to stop."

And despite all the challenges Svend had endured lately, Norway's Strongest Man and Viking Power Challenge are running ahead at full tilt.

Set for May 23, Norway's Strongest Man will qualify its top three finishers for Viking Power Challenge, which will directly qualify its top four finishers for the 2009 World's Strongest Man contest, Karlsen explained.

The field for Viking Power Challenge is Derek Poundstone, Kevin Nee, Travis Ortmayer, the top three finishers from Norway's Strongest Man, Mikhail Koklyaev, Jarek Dymek, Slawomir Toczek and Stefan Solvi Petursson.

And guess who's giving a boxing exhibition at the Viking Power Challenge: Arild 'The World's Strongest Boxer' aka 'The Emperor of Stones' Haugen.

"He looks like a god, to be honest" Svend Karlsen said. And don't think Arild is just 134 kg of good-looking muscle - get this: he can do 50 continuous reps from the ground to overhead with a 100-kg log! And if that's not enough, Svend said that Arild has become such a nice guy that "He's like the Norwegian Kevin Nee."

And if that's not enough to keep the Viking busy, when asked about the forthcoming biographical film - A Life in Power - Svend said, "The film itself is ready; we are just waiting for the final piece of music. I really like the final cut: It makes me proud, but it makes me feel old because I have been through so much . . . powerlifting, bodybuilding, pro bodybuilding, strongman. After I watched the film, I truly believed it myself that I am a legend," Svend said with a laugh.