United Strongmen -105 kg World Championships
"The main happening in 2013 for United Strongmen® is just 13 days away and we are excited about it," Jyrki Rantanen reported to IronMind today.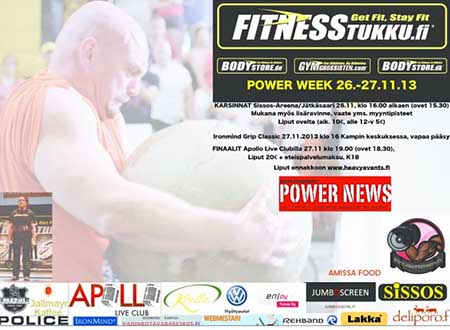 Three-time under 105-kg world champion strongman competitor Janne Hartikainen is honored on the United Strongman poster. IronMind® | Artwork courtesy of US


"The first US [Under] 105 kg World Championships is already a world record of its own, with 28 competitors from 12 different countries. Via national qualifications we got also the 3-time world champion Janne Hartikainen (Finland) in, and this might be the last time when we see him in international competitions for strongman. 


"In the women´s class we are witnessing the battle of the century also as the reigning world champion Kristin Rhodes (USA) is coming back to Finland to defend her title against the hometown hero Kati Luoto (Scandinavian Champion 2013), along with many other top women.

"For lighter strength athletes we are introducing inaugural Strongman Fitness® European Championships, where the continent's best lightweight women and men are battling it out for the spots to ASC´s World Championships in Arnold Sport Festival.

"Overall, there are over 50 athletes from 14 different countries coming for the show of strongmen and women. In the events we will generate a few new world records also as some of the events are available for the first time to our world record program.

"For example we will see the IronMind Apollon´s Axle overhead lift with last man/woman style along with 7 other events like Conan´s Wheel, deadlift, etc.," said Rantanen.

Please find attached the competition poster with Janne Hartikainen honored on it.

###



Want to talk strength? Join the IronMind Forum.

You can also follow IronMind on Twitter and on Facebook.