Traditional Strongman Chris Rider Certifies on the IronMind Red Nail®
Chris Rider's idea of good time is doing things like tearing phone books, breaking chains with his hair (!) and bending steel, so guess who just got certified on IronMind®'s Red Nail™?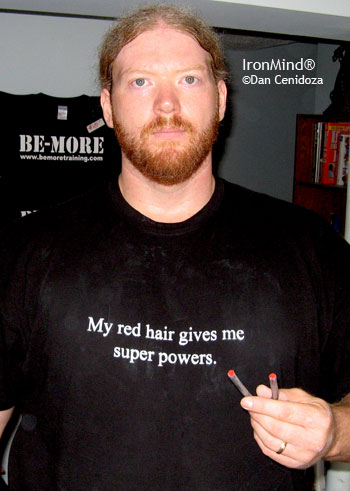 Is it really as simple as Chris Rider's shirt makes it sound? Regardless, Chris just certified on the IronMind® Red Nail™. IronMind® | Den Cenidoza photo.


Chris has performed his feats of strength at the AOBS dinner, which has hosted most of the top performers in this field, giving you an idea of his level of achievement.

Special thanks to Dan Cenidoza of Be-More Training in Baltimore for serving as Chris Rider's referee, and it's official now: Chris Rider has been certified and his name has been added to the Red Nail™ Roster®, the official list of men who have succeeded on this benchmark short bend.