Top Strongmen Louis-Philippe Jean and Mark Felix Join the Field In Los Angeles
The All-American Strongman contest at the Bodybuilding.com Los Angeles Fitness Expo just moved up another step as top Canadian strongman Louis-Philippe Jean and top British strongman Mark Felix have joined the field, contest organizer Odd Haugen told IronMind® today.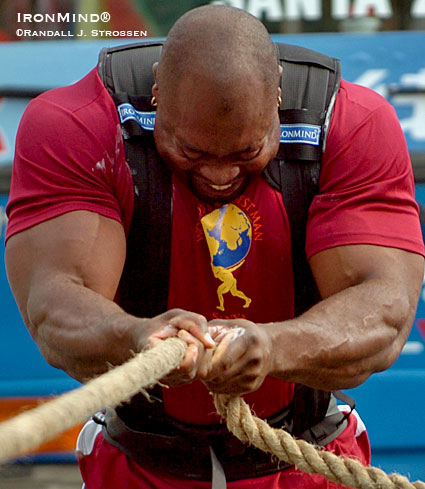 Mark Felix, shown on the bus pull at the 2006 World's Strongest Man contest, is joining the field of strongmen at the Bodybuilding.com LA FitExpo in January. IronMind® | Randall J. Strossen photo.

Haugen has been at the cutting edge of American strongman for about a decade and his FitExpo-based contest has continued to grow over the years.

In 2010, the field of this contest will include some top international strongman competitors, alongside the leading Americans. Both Mark Felix and Louis-Philippe Jean bring a new level of crowd appeal to this event because they are top international strongmen who also have established themselves among strongman fans. Besides his considerable strongman credentials, Felix holds the world record on the Rolling Thunder®, one of the most-established feats of grip strength, and Jean is considered one of the top strongmen on the rise - the perfect role for a young stalwart from Quebec.

"The 2010 All American Challenge is shaping up to be an international battle," Haugen said, and things might get hotter still as Terry Hollands, another top British strongman, and USA's Karl Gillingham (2007 strongman winner at the FitExpo) are also possible entries.

The international strongman competitors will "take on a great group of American athletes lead by the likes of Nick Best, David Ostlund, Kevin Knee and Marshall White among the 10 athletes already confirmed," said Haugen.

Gillingham told IronMind®, "I am trying my best to get ready and will send in my entry form on the Thursday deadline if my next two workouts go ok. I am not at 100% right now as I have a partially-torn labrum that I have been trying to rehab and a couple of other physical issues that come with being a 45-year-old strongman. If it is at all possible, I will compete. Looks like a 50/50 chance right now."

As a reminder, this contest is open, with an entry deadline of December 31. "This is an opportunity to get invited to the Arnold's Classic Strongman and the 2010 World Strong Man Super Series, all baked into one," Haugen told IronMind®, so if you've got what it takes to ring the bell in strongman, this is your contest.