One of the really nice things that happens in an Olympic year is that sports and athletes otherwise laboring in relative obscurity are suddenly thrust into the limelight, and great heroes from the past are remembered and honored as they should be.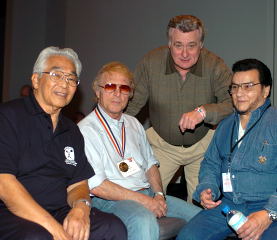 (Left to right) Tommy Kono, Issac Berger, Lou DeMarco and Chuck Vinci relax at the 2004 Arnold. IronMind® | Randall J. Strossen, Ph.D. photo.
Tommy Kono was recently honored by the publication AsianWeek with its prestigious Leadership Award in San Francisco.

"I never saw so many men in business suits as that night because in Hawaii hardly anyone ever wears any kind of suits," Tommy said. But that was just a dress rehearsal, because Tommy will be back in the December, in a tuxedo no less, to get the full treatment as part of this recognition for his achievements. In order to both attend this presentation and to honor his longstanding commitments to the Honolulu Marathon, Tommy has to take a red-eye flight from Honolulu to San Francisco, attend the banquet, and then return to Honolulu the next morning. Sounds like Tommy is training to be a MILO reporter.

It's true that Tommy won three Olympic medals (two golds and one silver), and that he set over two dozen world records in weightlifting (spanning four different bodyweight classes) and that besides being one of the world's most elite weightlifters, he also won international acclaim (and titles) for his physique, and along the way he even did some shows demonstrating traditional feats of strength. That's all great, but the first person to tell us the bold-face name who said he was inspired by Tommy Kono and wanted to be "studly" like him wins a complimentary one-year MILO subscription.

Email your answer to sales@ironmind.com. One answer per person, please.