Tomi Lotta: Breaking Bats
"The great strongman Tomi Lotta from Finland is in super shape," Marcel Mostert told IronMind. "He is preparing for another Guinness record, in a few weeks in China, to break his own Guinness record in bat-breaking.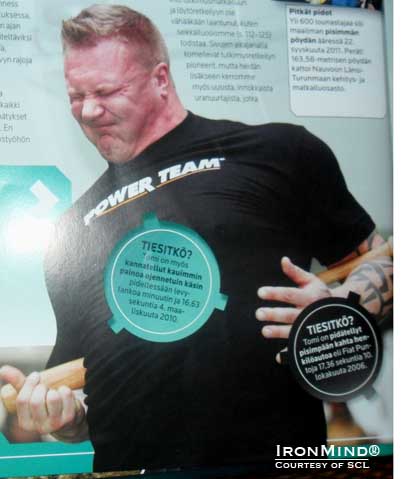 Tomi Lotta at work breaking bats for a Guinness record. IronMind® | Courtesy of SCL.


Mostert said that will be in the SCL finals in Martinique first and then he will fly directly to China for this attempt to break his own record.

"Lately , Tomi does a lot of shows and expos for the SCL sponsor Power-Team," said Mostert.

"An event with their tools can be seen this coming Friday, when the Strongman Champions League Gibraltar competition is broadcast on Eurosport. [This is] a must-see, where strongman are dancing with the monkeys of the Rock Gibraltar."

Hmmm—that must be a first, even in the world of strongman!

### 



The IronMind Forum: discuss this article, talk strength, get help with your training. 


You can also follow IronMind on Twitter.