Tire Management in Strongman . . . Savickas's World Record
Tires win car races and in strongman they can crush the unwary, which is why Marcel Mostert said the tire flip was cancelled in the IFSA Lithuania Grand Prix.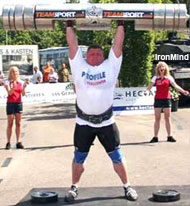 See it tomorrow night on Eurosport: Zydrunas Savickas does a world record 205-kg on the log lift at the IFSA Dutch Grand Prix. IronMind® | Photo courtesy of Marcel Mostert.

Stressing his concern for athlete safety, Mostert told IronMind® that it was pouring rain for the last two events in the IFSA Lithuanian Grand Prix so he and Ilkka Kinnunen, who were refereeing, called off the tire - despite some protests. "It was a question of safety," Mostert said, explaining that in the rain, there was no grip - for either the hands or the feet - imperiling the competitors.

Compounding the problem, Mostert said that a lot of promoters go too heavy in the tire, and while it is fine for the top competitors, the weakest guys in the competition are endangered by this practice. Mostert said, "We never have problems with the top guys . . . it's the guys who will come in 10th or 12th place."

To make the event safer, Mostert said that when he runs a nationals, where the bottom of the field is likely to be very inexperienced and very weak compared to the top competitors, he uses a spotter on either side of the tire and if he senses that a competitor is in danger of getting injured, Mostert will stop the event for that guy - giving a TKO, as it were.

Looking to the future, Mostert said that the IFSA Grand Prix of Saudi Arabia has been rescheduled for November 17 - 19, and for all strongman fans in Europe who want to see Zydrunas Savickas's 205-kg world record in the log lift, tune in to Eurosport tomorrow night, at 20:45 European time.