Tigran Martirosyan: 77-kg Champion at the European Weightlifting Championships
Minsk—The Belarusian fans were there in force to support their countryman, defending 77-kg European weightlifting champion, Makalai Charniak, but the evening belonged to Armenia's Tigran Martirosyan.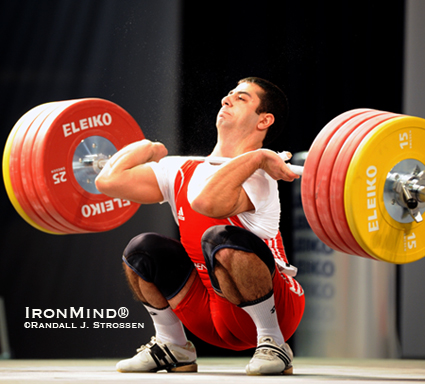 Chalk flying, the bar bending, Tigran Martirosyan hits the bottom with 205 kg. Martirosyan cleaned the weight, but missed the jerk. IronMind® | Randall J. Strossen photo.


Charniak did himself proud as hit he three good snatches, ending with 161 kg, but Martirosyan blistered 161 and 165, before passing on his third attempt, lifting the gold medal in the snatch from the Belarusian athlete. The very muscular Polish lifter Krzysztof Szramiak was good for the bronze medal with 160 kg.

Erkand Qerimaj (Albania) had a big opener in the clean and jerk, 190 kg, but only did a pull with 192 kg on his second attempt and then missed the jerk with the same weight on his third attempt. Szramiak, who had opened with 187 kg, had 190 kg overhead on his second attempt; and while it was passed by the referees, the jury reversed the lift. Szramiak made a good 191-kg lift on his third attempt.

And now it was the Tigran Martirosyan show. He smoked 195 kg on his first attempt, but put the bar down as quickly as he lifted it, so it was no lift—much to Martirosyan's displeasure. Repeating the lift, Martirosyan dispatched it with ease, once again power jerking it, and while not wasting any time returning the bar to the platform, this lift was a three-white-light success. On the board and his third gold locked up, Martirosyan jumped to 205 kg— a world-class weight for the clean and jerk in this class. The bar drove him into a deep squat, but he stood up, jerked it, was under the bar in about a half squat, but then lost it as he sank deeper.

Nice lifting by Tigran Martirosyan—watch for big things from him later this year.