Tight Competition in the 77s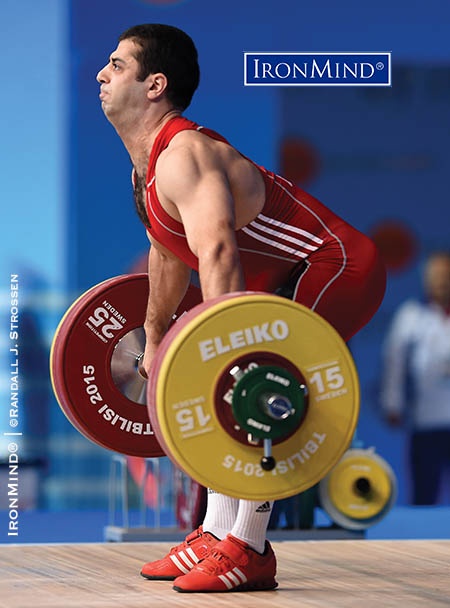 Tibilisi—Armenian fans wasted no time making their presence known as they supported Tigran Martirosyan and Andranik Karapetyan, two of the principals in the closely-contested men's 77-kg class at the 2015 European Weightlifting Championships.



The leaders snatched well and kept the competition moving at a brisk pace. Karapetyan made all three of his lifts, ending with 164 kg, which he stuck. Martirosyan made 155 on his first attempt and 160 kg on his second, before missing 162 kg when he couldn't quite get fully under it. Victor Getts (Russia) made three good attempts, losing the silver medal in the snatch on bodyweight.  

Great snatching is an Armenian tradition and Getts is no slouch: he sets up quickly and then snatches as if he's on rails, executing his lifts with no adjustments or wasted movements.

Of the leaders, Getts was first out in the clean and jerk, and he ran through 185 kg with same precision he brought to the snatch. Martirosyan followed with 185 kg, dispatching the weight with a deep clean and a very shallow power jerk. Karapetyan missed the jerk on 186 kg, and came back and made it on his second attempt—his jerks with a narrow, shallow split, which might have contributed to his first attempt miss.  

Getts and Martirosyan both made 191 kg on their second attempts—this time Martirosyan went slightly deeper on his power jerk. Afgan Bayramov (Azerbaijan), who was 11th in the snatch and had opened with 180 kg in the clean and jerk, made 192 kg on his second attempt. Karapetyan, going for the lead, took 193 kg on his third attempt but once again using a narrow, shallow split, he missed the jerk.

Getts, eying the possibility of two gold medals, took 197 kg on his third attempt, had the bar overhead but with obvious press out which earned him two red lights and triggered a celebration among the Armenian fans as Martirosyan, who already had the same 351 kg on the board, was lighter. One kilo back, Karapetyan got the bronze medal in the total.

                                                                      ###



Follow IronMind on Twitter and on Facebook.


Want to talk strength? Visit the IronMind Forum: Strongman, grip, Highland Games, Olympic lifting, stones and more.