Not one to beat his own chest, Jim Davis won't just come out and tell you what a great job he's doing pulling together the pieces for the Fourth of July strongman show he is organizing in St. Charles, Missouri, but you can get the picture if you ask the question sideways.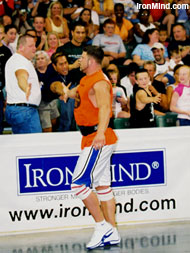 Jesse Marunde working the crowd at Jim Davis's 2003 Extreme Strongman Challenge (St. Louis, Missouri). IronMind® | Randall J. Strossen, Ph.D. photo.

"They're on fire," he said, without a moment's hesitation, when asked how the top strongmen he's bringing to town are reacting to his contest. Davis said that one of the athletes is so stoked about this competition that he calls Jim nearly every day.

It hasn't all been easy, though, as Davis, who stretched himself to the limit trying to put on strongman contests a few years ago, still remembers how tough things were: He'd spend the day walking and talking to raise money, which is why his contests helped to elevate prize money for athletes to new levels, levels that have been increasingly scarce since Davis left strongman.

Jim Davis was always a breed apart, not just because he could walk into the room and instantly command attention and respect, but also because his motivation for being in strongman was not focussed on personal gain: Davis raised money for the Children's Miracle Network and rather than directing dollars into his pockets by riding on the backs of the athletes, whenever he had a few dollars, he tried to pay all the others in line first, and if there there was anything left, that's where his modest cut came from. Davis's great spirit was recognized by people, which is why a lot of guys rallied around him, willing to stretch themselves, too, in the hope that better days, financially, were coming.

And all of that just seems fuzzy and nice, come to St. Charles, Missouri this Fourth of July and get ready to rock as Karl Gillingham, Hugo Girard, Svend Karlsen, Mark Philippi, Jesse Marunde and Phil Pfister come to town.