The Wheelbarrow at the World's Strongest Man Contest
Paradise Island, Bahamas - With the 2004 World's Strongest Man contest coming down to the finish line, ending tomorrow, the second event today was the Wheelbarrow race.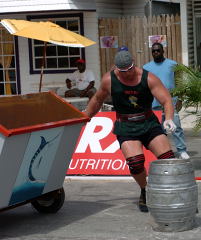 Magnus Samuelsson goes for the keg in Wheelbarrow Race. IronMind® | Randall J. Strossen, Ph.D. photo.
The Wheelbarrow Race was held on a 35-meter course, with four 100-kg objects that had to be loaded along the way. The TV shows, which the BBC and ESPN will begin broadcasting about Christmas time, will capture the excitement that built in this, the second to the last, event, but Magnus Samuelsson maintained the momentum he had established earlier in the day and he won again. The battle for the top positions is extremely tight and tomorrow's final event, the stones, will determine who leaves with what. Unofficially, Zydrunas Savickas and Vasyl Virastiuk are once again tied for the lead, at 32 points, followed by Mariusz Pudzianowski at 29, Magnus Samuelsson at 26 and Raimonds Bergmanis at 17.