The Gathering 2012: Grip Strength and Stones
"We have now just put the large tent down, and the 'festival' that was The Gathering is over for this year," David Horne told IronMind. Horne, who narrowly missed breaking the world record on the CoC Silver Bullet earlier this year, was barely denied again, but neither that nor the rain could dampen the spirits of the organizers and participants.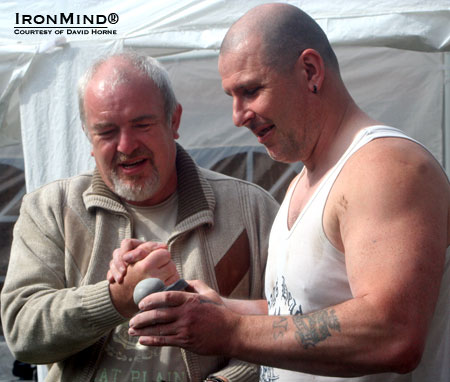 David Horne (right) presents a trophy to Peter Martin (left), keeper of the flame for traditional stone lifting, IronMind® | Courtesy of David Horne.


"Unfortunately I came up slightly short again, with a time of 40.27 seconds," reported Horne. "It felt nailed even at about 36 seconds, and then the dreaded lactic happened. Anyway, I will have a run at it again in 2013, as I have the orthopedic appointment next Monday, and elbow surgery will again probably follow.

"We have had the wettest summer here on record, and thank goodness I purchased a 9 x 3 metre wedding tent, which of course was extremely useful. We had various downpours through the Saturday, turning the grass into a soggy/muddy marsh! But luckily Sunday was nicer, and the sun even managed to cook the guys when it came to the steel snapping event - haha!

"Peter Martin brought the Puterach replica stone down for the English Stone Lifting Champs all the way from Scotland, and he had a superb time. Of course you can chat to him on your forum.

"Peter's knowledge on the historical subject of stone lifting is second to none, and we loved all the stories. At the presentation time, after the top three had been presented their trophies, we presented Peter with a stone trophy for services to stone lifting history.

"Nick [McKinless] and I only did the stone lifting event. Some of the stone lifting videos are up on youtube now (not my videos), and you can hear the rain coming down!

"Everyone seemed to have a great time over the weekend despite the bad weather, and we'll be ready for the next one in 2016!," said Horne.

Here are the top three, officially, by event and full the full results, please visit David Horne's website.

I. The World's Strongest Hands: The Gathering

Overall results: Open class
1. Rob Russell
2. Chris Lowe
3. Stew Killick

Overall results: 83-kg class
1. Pete Kerr
2. Mark Martin-Dye
3. Elizabeth Horne


II. English "Open" Stone Lifting Championships

Overall results
1. Nick McKinless
2. Rob Russell
3. David Horne
###

The IronMind Forum: discuss this article, talk strength, get help with your training.

You can also follow IronMind on Twitter.