The Fisher Forearm Turns 50
Half a century old and going strong, Allen Fisher's famous forearm will be getting some exercise at the Birthday Bash Challenge held in honor of his birthday today.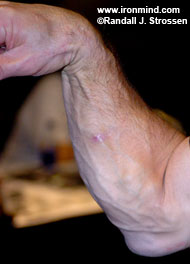 The Fisher Forearm has been notching wins at the arm wrestling table for 25 years and today it turns 50. IronMind® | Randall Strossen photo.

Set for Riley's Sports Bar in San Diego today, there are open and amateur classes, awards, and a guaranteed good time. Even if you're not pulling, if you're in the neighborhood, drop by and see what a fifty-year old forearm can look like and just what it can do.