The Brockster Wins the British Heavyweight (Highland Games) Championships
Larry Brock continued produce top throws on his way to winning the British Heavyweight (Highland Games) Championships.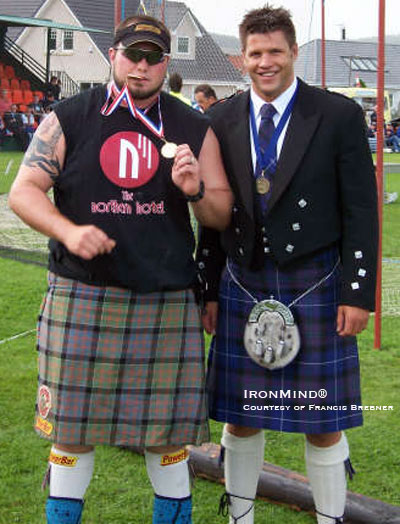 Larry Brock gets his minerals after winning the the British Heavyweight (Highland Games) Championships. IronMind® | Photo courtesy of Francis Brebner.

Bridge of Allan Highland Games - British Heavyweight Championship by Francis Brebner

"It was a fantastic competition at the Bridge of Allan Games in Stirlingshire, Scotland," said Larry Brock, "with a packed crowed of 10,000 spectators watching us throw as well as superb weather, which made it spot-on for throwing."

The British Heavyweight Championship got off to a good start with the 16-lb. open shot, and Aaron Neighbour from Melbourne, Australia, took the first event win with a putt of 50' 3"; in second was Scotland's Bruce Robb at 49' 6" and in third, Scotland's David Dowson at 49' 2".

In the 22-lb. open shot, Robb, with a putt 41' 7", went ahead of Neighbour for the win, leaving the Australian in second place with a putt of 40' 1" and Dowson in third at 39' 4".

But in the 16-lb. hammer, Larry Brock, with no pressure, won the event with a throw 142' 5"; Neighbour was second at 129' 9", and Robb just made it into third place at 126' 6".

Again in the 22-lb. hammer, Brock showed his masterful technique with a winning throw of 110' 3", with Robb in second at 97' 5" and Dowson in third at 96' 2".

For the British Championship title in the 56-lb. weight over the bar it was a fierce battle that was finally won by Neighbour with a toss of 15' 6"; Brock was second and Robb was third.

In the British Championship 56-lb. weight for distance event, this time Brock claimed the title with a throw of 41' 3", with Robb in second at 38' 9" and Neighbour in third with 31' 4".

In the final event, the open caber, which was 21 ft. long and 127 lb., it was a very close competition, with Brock just claiming victory over his rivals with a 12:00 toss; Robb was second with a 12:03 toss, and Neighbour third with 12:05.

After all the points were tallied, it was confirmed that Brock had indeed won the British Heavyweight Championship, with only one point separating the top three athletes, adding another title to Brock's very fast-growing collection.


Overall 2008 British Championships

1. Larry Brock, USA 35 points
2. Bruce Robb, Scotland, 34 points
3. Aaron Neighbour, Australia, 33 points

Larry Brock added, "One of the highlights of my trip to Scotland was the Aboyne Games and Bridge of Allan, but nothing can compare to the chance to go to Bill Anderson's house and visit with him for a little while after the Aboyne Games. He is one of the greatest guys in the Games. I really enjoyed the Northern Hotel and all they did for us, sponsoring us while we were on tour of the Scottish Games.

"I am very happy to be bringing back the British Heavyweight Championship title. Now I am looking forward to Pleasanton and the IHGF World Hammer Championships and will try and hold onto my world title that I won last year."