The Beijing Super Mystery
Kanazawa, Japan - IronMind credits Andrei Chemerkin (Russia) for first suggesting that the Chinese Weightlifting Association might be uncorking a big surprise in Beijing . . . really big, as in the +105-kg Olympic gold medalist.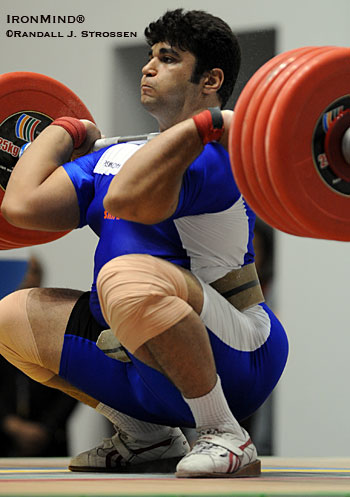 Rashid Sarifi Sadeh (Iran) hits the bottom with 230 kg on his second clean and jerk. IronMind® | Randall J. Strossen photo.

Chemerkin mentioned this possibility to IronMind®'s Randall Strossen way before other people were thinking along these lines and if this prediction comes to pass, the mystery man will be a secret a little longer because he wasn't lifting at the Asian Weightlifting Championships today . . . nor were any of the likely medalists from the big boy classes.

IronMind® was told that Bulgaria's Yanne Marchochov has retired as a lifter and is now the coach for the Qatar weightlifting team, where he will have the opportunity to markedly improve performances: Aldosari Saeed (Qatar) posted 80/105 in the 105-kg class today, which was won by Mohammed Alaifuri (Iraq) with 165/195.

The supers were contested at a higher level, with Rashid Sharifi Sadeh taking top honors via 190/236.

Unimpressed by these numbers? Just be patient, because come August, expect to see much bigger winning lifts and the hands on the bar might well belong to a member of the Asian Weightlifting Federation.

And as for the mysterious lifter from the East, we could tell you a little more about what's brewing for Beijing in the supers, but you don't want IronMind® to ruin the surprise do you?

Stay tuned.