The Arnold Opens With a Bang
Columbus, Ohio - There's nothing else like it - with its unparalleled volume and intensity - and when the Arnold comes to town, it hits with the subtlety of a tidal wave.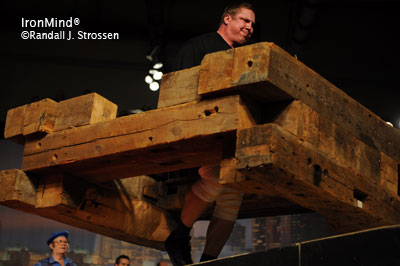 After watching Andrus Murumets yesterday, the Timber Walk should be renamed the Timber Run. IronMind® | Randall J. Strossen photo.

In a new twist, the Arnold Strongman contest opened with one of its signature events, the Timber Walk. The only problem was that nobody must have explained this to Andrus Murumets because while many of the competitors could barely move the massive 875-pound structure, Murumets ran with it, flying up the ramp in a blazing time of 7.35 seconds.

In arm wrestling, Rich Lupkes pulled off a huge upset, beating John Brzenk in one of the day's preliminary bouts. And over at the GNC Grip Gauntlet, Tex Henderson sailed through the heavy version of the world's most famous grip contest, and after he had closed a No. 3 Captains of Crush® Gripper, he did the same thing with a No. 3.5. And talking Captains of Crush® Grippers, Chris Mathison and Andrew Durniat nailed the No. 3 Captains of Crush® Gripper on their certification attempts.

With that as a warm-up, get set for day two, as the Arnold continues today.