Terry Hollands/Jimmy Marku: Torn Biceps Update
"Yeah, mine is torn!," Terry Hollands confirmed for IronMind® when asked about the injury he suffered at this past weekend's Europe's Strongest Man contest.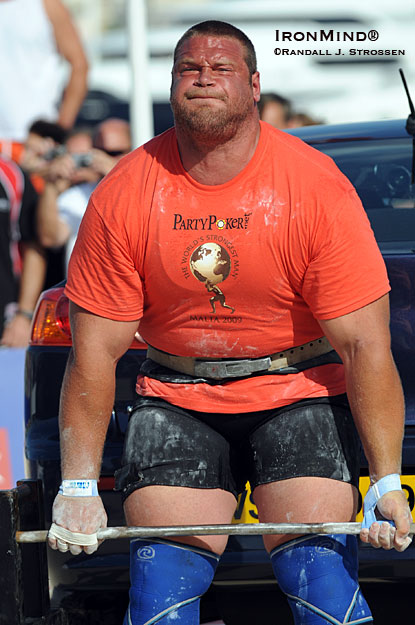 Shown on the Car Deadlift at the 2009 World's Strongest Man (WSM) contest, Terry Hollands (England) was off to a huge start early in the 2010 strongman season, leading some strongman fans to predict that this would be his year to win WSM. Unfortunately, Terry tore a biceps this past weekend at the Europe's Strongest Man contest, as did Jimmy Marku. As one would expect from Terry Hollands—the man who banged through WSM 2009 with badly ripped-up hands—though, there is no whining, and instead, he's picking up the pieces and planning for the future. Terry Hollands: just call him The Rock. IronMind® | Randall J. Strossen photo.


"I'm in to see the specialist this week and hopefully will get surgery by the end of the week. My year was going great and I was just getting my head round starting my WSM prep. The training programme was written out and I was ready to go. I just needed to get that last contest out the way. I'm so frustrated because I nearly pulled out with shin splints earlier in the week.

"I will just have to make sure I am even better shape at WSM 2011. I now feel like I have my training right so once this is healed I will be ready to go full force next year

"Although a very slim chance I am still clinging onto a tiny bit of hope I will make it to WSM this year."



Want to talk strength? Join the IronMind® Forum!

You can also follow IronMind® on Twitter.