Tavakoli, Bagheri, Panizvan: IRIWF Coaches
Tapping its ranks of former top weightlifters to fill its highest coaching positions, the Iranian Weightlifting Federation (IRIWF) is, at least for the moment, turning to its own resources as it rebuilds its team following the doping debacle last year.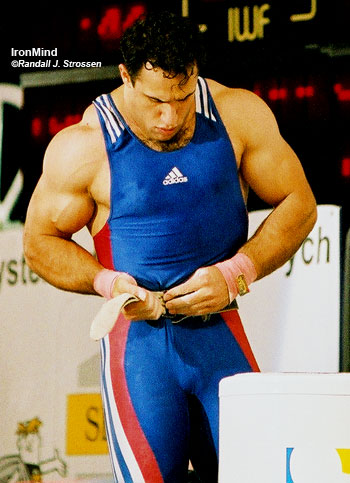 One of the most muscular lifters you'll ever see, Hossein Tavakoli was the 2000 Olympic gold medalist in the 105-kg category. IronMind® | Randall J. Strossen, Ph.D. photo.
Hossein Tavakoli, gold medalist in the 105-kg category at the Sydney Olympics and Hadi Panizvan, 2002 Asian Games silver medalist (85-kg category), are coaching Iran's junior team, and Koroush Bagheri, 2001 world champion at 94 kg, is one of the two coaches of the Iranian senior men's weightlifting team.

Bulgarian coach Yordan Ivanov had been dismissed as the IRIWF senior men's coach last year, following nine positives in an unannounced WADA doping control, a development that put the Iranian weightlifting team into a rebuilding mode. In other Iranian weightlifting developments, former IRIWF president Ali Moradi was just re-elected as general secretary of the Asian Weightlifting Federation (AWF), at the AWF Electoral Congress in Macau last week.