Tarmo Mitt Wins BelAZ Strongman Cup 2011
Honoring the "Day of the Machine Engineer," it was an open day at the Belarusian automobile factory BelAZ, which gave visitors a chance to see not only the massive trucks built there, but also a WSF World Cup added strongman contest—which was won by Tarmo Mitt.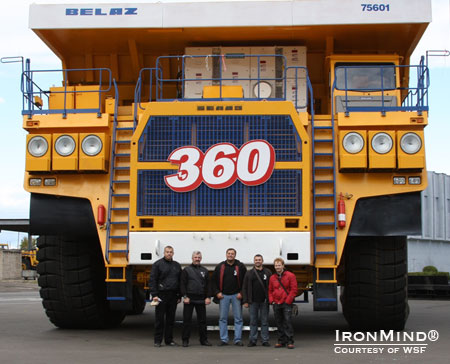 WSF Strongman Federation founder Vlad Redkin (second from the left) gives us an idea of what it means to say they build big trucks at BelAZ. IronMind® | Courtesy of WSF World Cup.


"Visitors to the factory could familiarize themselves with the history of the largest manufacturer of career technics [hauling and earth moving equipment], visit an exhibition of [vehicles manufactured] at the enterprise. Visitors have seen legendary dump-body trucks: 'babies' with load-carrying capacity from 30 tn and the greatest dump-body trucks load-carrying capacity 360 tn. Besides, this day industrial shops BelAz were accessible to viewing of visitors," Vlad Redkin reported to IronMind.

"The international tournament of athletes 'BELAZ STRONGMAN CUP 2011' has taken place for the first time on an enterprise open day. During this unique show the strongest people of Belarus and the Baltic States and Holland competed in a raising of weights. In the end of a holiday Vyacheslav Astapenkov has tried to get moving forward a 30-ton career dump-body truck of 'BelAZ.' He pulled on 3.4 m – it's a new record!," said Redkin.

Here are the official results:
| | | |
| --- | --- | --- |
| 1. | Tarmo Mitt (Estonia) | 23.0 |
| 2. | Antanas Abrutis (Lithuania) | 21.5 |
| 3. | Alexander Lapirov (Belarus) | 19.0 |
| 4. | Rolands Gulbis (Latvia) | 16.5 |
| 5. | Vyacheslav Astapenkov (Belarus) | 15.5 |
| 6. | Richard van der Linden (Holland) | 9.5 |
"A lot of TV stations broadcast news in CIS and Baltics countries," Redkin said.

"Belorussian automobile factory is one of the world's largest manufacturers of career technics, is based in 1948. The basic production of the enterprise are career dump-body trucks, face-to-face wheel loaders and bulldozers, the tractors-wreckers, special vehicles for underground works, heavy trucks for metallurgical manufacture and other specialized technological cars.

Great show, great cars! We have the new agreement for WSF World Cup stage with BELAZ for new season," Redkin said.

And for anyone who wasn't familiar with this holiday, a little checking uncovered its history: It began with a 1980 decree by the Presidium of the Soviet Union, specifying that the last Sunday of September would be celebrated as Machine Engineer's Day in Belarus. Workers in the plant were wished "health, wealth and peace!"

###

The IronMind Forum: discuss this article, talk strength, get help with your training.

You can also follow IronMind on Twitter.