Tang Cleans and Jerks 182.5 kg!
Athens – Forget about four hundred pound clean and jerks just being the province of strong men, because Tang Gonghong (China) says that strong women can also reach this level, and she's got an Olympic gold medal to prove it.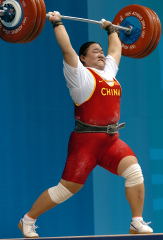 Tang Gonghong wins the Olympic gold medal with this historic 182.5 kg clean and jerk. IronMind® | Randall J. Strossen, Ph.D. photo.

Things did not get off to an easy start for Tang Gonghong tonight, as she missed her opening snatch, 122 kg, came back to make it on her second attempt, but then missed 127.5 kg on her third. Jang Mi Ran (Korea) and Agatha Wroebel got off to much better starts, both hitting 125 on their openers, 130 on their second attempts, before missing 132.5 on their third attempts.

Anyone who has seen Tang knows she has a huge clean and jerk, and at this point it already was clear that she would need it for the win, but before the night was over, the pressure would mount even more. Of the leaders, Wrobel opened first with an easy 160 kg, and then Jang made a very strong 165 kg opener. Wrobel took 167.5 on her second attempt, going for gold medal position, but got dumped by the weight. Trying to boost her lead, Jang made what looked like a great lift with 170 kg on her second attempt, only to lose the jerk behind at the last moment. Wrobel called for the same weight on her third attempt, eyeing gold medal position again, but in a situation reminiscent of what happened in Sydney, she choked and only deadlifted the bar.

With the pressure rising, Tang opened with 172.5 kg and when the weight dumped her to the platform, things were looking very good for Jang. Tang came back on her second, however, for a good lift, which gave her silver medal position, and the Olympic record in the clean and jerk. Unfazed, Jang came back with great lift, 175 kg, on her third attempt, to strengthen her lead and gain the Olympic record in the total. With one lift left, Tang called for 182.5 kg(!), which would give her the gold medal, the Olympic records in the clean and jerk, as well as the total, and the world records in the clean and jerk, and the total. She made the lift and that's what she got. Great class.