Szymon Kolecki World Record 232.5-kg Clean and Jerk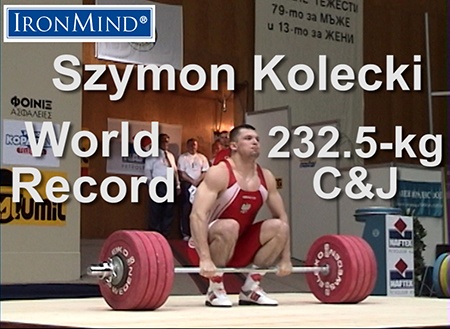 The 94-kg class promised to pit Akakios Kakiashvilis (Greece) and Aleksey Petrov (Russia) against each other and wunderkind Szymon Kolecki (Poland) at the 2000 European Weightlifting Championships, but Kakiashvilis was sidelined by the flu.



Deadpan, Petrov hit 170 and 175 but missed 180, while Kolecki marched through 175 and 180 with almost a disdainful air, before missing 182.5 behind. But the rubber wasn't going to hit the road until the clean and jerks.

With two competitors on 217.5 for third and fourth respectively, and a second-place lifter at 225, Petrov didn't figure in the top four: he made his opener 215 and missed 220 twice.

Kolecki opened with 222.5, had to work a little to stand, and then punched it into the sky for the gold medal in the jerk and the total. When everyone else was done, he called for 232.5 on his second attempt, and while recovering from the clean was predictably the toughest part of the lift, he did have to adjust a little under the jerk—but it was good for a world record.

Here's a video of Szymon Kolecki's huge 232.5-kg world record clean and jerk, which is also on the IronMind YouTube channel.

For more on this competition, get MILO, September 2000, Vol. 8, No. 2 in the IronMind e-store.

                                    ###



You can also follow IronMind on Twitter and on Facebook.                        



Want to talk strength?  Join the IronMind Forum.