Surviving a Big Scare, Lu Yong Wins the 85s
Dongguan, China - After leaving the men's 77-kg category empty handed last night, the Chinese men's weightlifting team was feeling added pressure to produce a gold medal tonight and the man to do it was defending Olympic champion Lu Yong.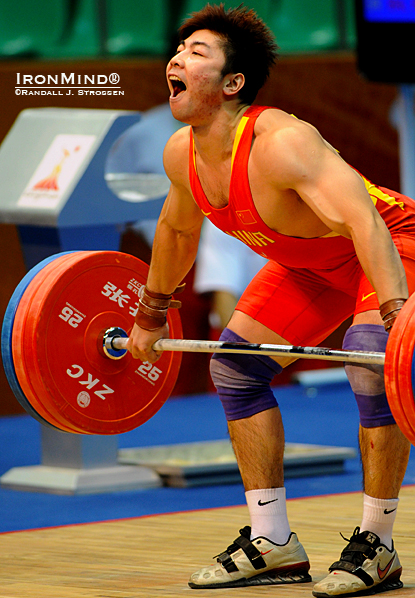 Lu Yong (China) lays it on this 173-kg snatch, en route to the gold medal in the 85-kg category in weightlifting a the Asian Games. IronMind® | Randall J. Strossen photo.


At his best, Lu Yong would have managed this field with relative comfort, but he hasn't been close to his Beijing Olympics form for the last two years and while he left with the gold medal, it hung in the balance.


Not what he wanted, but Lu Yong missed his opening snatch—170 kg—despite a valiant effort to save it. He repeated for a strong success, and after his teammate, Jiang Hairong, missed 172 kg twice, Lu Yong had a nice success with 173 kg.

Fast forwarding through the clean and jerks, Lu Yong opened with 201 kg, which he made, and you could see him visibly sigh in relief when he'd completed the good lift—he was extremely cautious in the final stages of the jerk and recovery, leaving nothing to chance. Vladimir Kuznetsov (Kazakhstan), who had missed 200 kg twice, came back with a nice success on 201 kg—a solid clean followed by a quick jerk.

Jiang Hairong missed the jerk with 202 kg on his first attempt, and Mansurbek Chashemov (Uzbekistan) did the same thing with 202 on his second attempt.

When Jian Hairong came out for his second attempt, 202 kg, the crowd welcomed him with a roar of approval that must have fired him up because although he had to work to recover on the clean, he stuck the jerk, only to then have some difficulty standing up again and then he limped off the platform. Chashemov got red-lighted when his right elbow hit his knee as he tried to rack 202 kg on his third attempt.

Lu Yong made 203 on his second attempt to increase his lead, and he celebrated his pleasure with the lift. Kianoush Rostami (Iran) was sitting in fifth place and going for bronze medal position he called for 205 on his second attempt. He didn't have much trouble cleaning the weight, but he missed the jerk. He repeated and missed the jerk again, leaving the bar out front and never really getting under it.

Maybe thinking that this idea of leapfrogging up in the standings looked like fun, Kim Kwang Hoon (Korea), who had opened with 195 kg, called for 209 kg on his second attempt, in a bid to move from sixth place to third—an audacious jump inspired by an ambitious goal. He made the lift and if that didn't get Lu Yong's attention, something else was about to.

After Jiang Hairong took the most minor of tugs on 209 kg before recoiling in pain and retreating, Kim Kwang Hoon called for 216 kg! He had just jumped from sixth place to to third place, so why not hop from third to first next?

This seems to be a tradition among Korean lifters—to call for half the house to be put on the bar if that's what it takes to move up in the final standings—and despite the huge numbers involved, they don't do this for show: they really go for these weights.

Kim Kwang Hoon followed this tradition and when he racked the bar and stood up at least one person in the crowd muttered an expletive in admiration, and the jerk was so close that I will probably eat some kimchi for breakfast tomorrow in honor of Kim Kwang Hoon's effort.

###

Want to talk strength or discuss this article? Join the IronMind Forum!

You can also follow IronMind on Twitter.