Super Sized Training Hall Update
Athens – The big weightlifting news from the Olympics is that the big boys will be on center stage in just a couple of days, so everyone is primed to see who will win the superheavyweight gold medal and the right to call himself the strongest man in the world.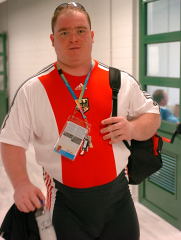 Weightlifting superstar Ronny Weller, outside the training hall, will be going for his fifth Olympic medal. IronMind® | Randall J. Strossen, Ph.D. photo.


Kicking off a weekend of the big guys banging around some big weights, Shane Hamman (USA) snatched 190 kg in the training hall on Friday. "Everyone in the training hall applauded," said USA Weightlifting Executive Director Wes Barnett. "Even Kakiasvili was clapping." Hamman seemed relaxed and confident yesterday, and appears ready to uncork a PR performance.

A couple of days ago we received word that Jaber Saeed Salem (Qatar) had pulled out, and his coach said that it was due to a shoulder injury, but that he would be back for the World Weightlifting Championships next year. This opens the door even more for the pre-contest favorite, the defending Olympic champion, Hossein Rezazadeh (Iran).

On Saturday, Rezazadeh went through a fairly characteristic workout: not even twenty reps in total, but among them, world-class lifts. Based on this workout, IronMind also saw approximately what Rezazadeh plans to open with in the competition.

Moving at fairly quick pace, Rezazadeh worked up to 200 kg in the snatch, and then 250 kg in the clean and jerk. He finished off the workout by hitting 270 kg in the squat.

Yesterday, Ronny Weller (Germany) continued the German tradition of not just focusing on the lifts themselves, even as the competition draws near. Weller began his training with snatch pulls, working up to 210 kg for a triple. Front squats were next, with Weller ending at 250 kg for a double. The German team, always the model of unity, was in good spirits, and Weller seems to be solidly-positioned for his bid to make weightlifting history here.