Super Series: World Strongman Tour Coming to Muscle Beach
Mark your calendars for November 14 and if you can be in Southern California, head over to Muscle Beach for the the Super Series strongman contest - it's the perfect setting for a contest that plans to bring to the world's top strongmen to this legendary location.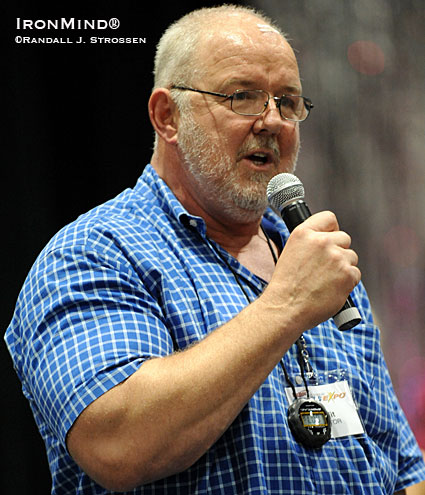 Because Odd Haugen has a really good grip, the risk of giving him a microphone is that he might accidentally crush it. IronMind® | Randall J. Strossen photo.


The contest format calls for 12 athletes and six disciplines, with the provision that the field might be cut to the top six competitors for the finals two events.

IronMind® was given the official list of events:

1. Farmer's Walk: 160 kg/hand; 40 meters, one turn
2. Overhead Lifting Medley: Atlas stone (102.5 kg); aluminum block (115 kg); field stone (125 kg); log clean/continental + press/jerk for reps (150 kg)
3. Shield Carry: 180 kg, 40 meters on a 20-meter course
4. Super Yoke: 420 kg, down and back on a 20-meter course
5. Deadlift Medley: Apollon's Axle (295 kg); Apollon Wheels (320 kg); Louis Cyr Barbell (340 kg); Giant Frame (330 kg, carried 10 meters)
6. Circle of Stones: loading 5 stones (140 kg to 195 kg)

Odd Haugen told IronMind® that the top six finishers from the Super Series contest in Bucharest will receive an automatic invitation, and that he will also be inviting the world's top strongmen, including: Zydrunas Savickas, Mariusz Pudzianowski, Brian Shaw, Dave Ostlund and Derek Poundstone.

Start time is set for 1 p.m., and Haugen said there might be some VIP seating, so stay tuned for more details and if you'd like to get taste of what this contest will be bringing to Muscle Beach, take a look at this clip, which has just been posted.