Super Series Strongman Contest at Madison Square Garden: "No Slouches There"
Seven-time World's Strongest Man competitor Mark Philippi is on the card at Madison Square Garden, when the Super Series brings strongman to the Big Apple on June 21.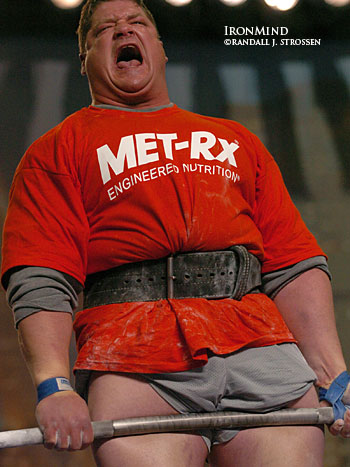 Mark Philippi pulls another big one at the Arnold - the name Mark Philippi is synonymous with big strongman deadlifts. IronMind® | Randall J. Strossen photo.

Besides being known for having one of the deadliest deadlifts in strongman, Mark Philippi's approach is to say what he thinks and not waste any words along the way. So, when Mark Philippi told IronMind®, "There are no slouches there," that spoke volumes about the field of competitors assembled for what might well be the biggest one-day strongman event in history.

And talking big strongman deadlifts, the Super Series contest at Madison Square Garden will feature not just Mark Philippi, but also Mark Felix, who can always be counted on for a big pull, and Oli Thompson, who deadlifted 400 kg in a recent workout, IronMind® was told.

Busy with his athletic training facility, The Philippi Sports Institute, Mark Philippi said that other than a sore hip, he's doing fine and looking forward to a big performance at Madison Square Garden's WaMu Theater, even though he's the first to point out that with the line-up of competitors, the standards are going to be very high there. If you want to see this contest in person, please check here for tickets.