Super Series: Madison Square Garden Strongman Contest . . . Preview on 7th Avenue
New York City - It was world-class, as the Super Series strongman contest set for Madison Square Garden's WaMu Theater on Saturday, June 21, gave New Yorkers a live demonstration of what's coming: Derek Poundstone ripped a phone book in half, Jarek Dymek flipped a tire, and Phil Pfister pulled a double-decker bus down 7th Avenue, in front of a sidewalk lined with fans and members of the press.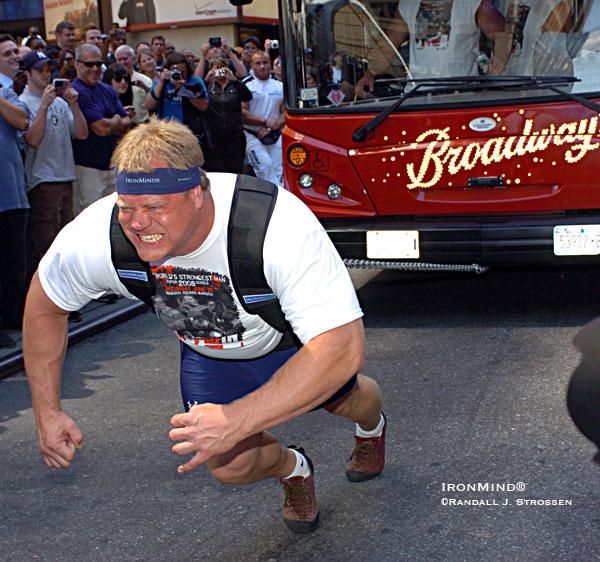 Phil Pfister thrills the crowd and gives the press an eyeful on 7th Avenue today, in front of Madison Square Garden, promoting the Super Series strongman contest set for Saturday night at The Garden. IronMind® | Randall J. Strossen photo.


Thanks to Super Series and Madison Square Garden, strongman has gone big time, and the headliners from today's exhibition will be on hand when the world-class field rolls out for real at the WaMu Theater this Saturday.

And talking world-class, it's official that Janne Virtanen will be joining the field, taking Hugo Girard's place, so that's one more World's Strongest Man winner you can see in person if you're in Manhattan this weekend.

If you can't make it to New York in the flesh, here's the next best thing: IronMind® has just learned that strongman.tv will be broadcasting the competition live, so check www.strongman.tv for the full details.