Super Grip Challenge - VI
Straight from the Heartland of America, Kevin Fulton, CoC3 '99, is holding his Super Grip Challenge - VI on October 22 on the Fulton Farm, near Litchfield, Nebraska.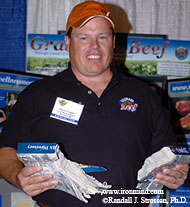 Did Kevin Fulton get frustrated looking up a phone number or was he just having some fun at the Grassland Beef booth at the 2004 GNC Show of Strength? IronMind® | Randall J. Strossen, Ph.D. photo.

Here are the events:

1. Two-hand Ciavattone deadlift
2. Captains of Crush® Grippers (best hand holding a strap)
3. Rolling Thunder
4. Two-hand Plate Pinch
5. Farmer's Walk (maximum weight for a distance of one rod; the handles are 2-3/8 inches thick.)

Each competitor will be given three attempts in all events.

"As usual, a Thomas Inch Replica dumbbell will be on hand for those who are up the challenge," and there will be plenty of other interesting things for you to try lifting.

Hosted by the Braveheart Barbell Club, this meet will be run under US All-Around Weightlifting Association rules, so, time permitting, USAWA record attempts will be allowed. Please email Kevin Fulton for details: kevinnamy@nctc.net.