Stuntman Nick McKinless: Strong Guy, Lion Heart
In the golden days of Muscle Beach, some of the top names were stunt men—a grand tradition that Nick McKinless has maintained, even if he's a Brit living far from Southern California.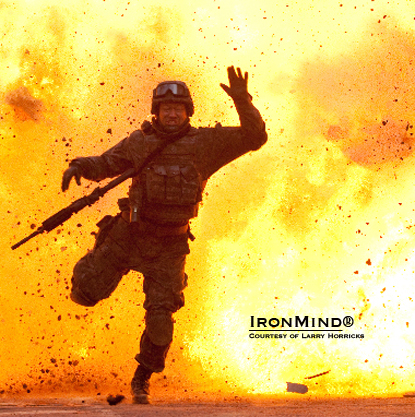 Strength athlete Nick McKinless wanted to become a stuntman, and that's just what he did. IronMind® | Still from Coriolanus courtesy of Larry Horricks.


IronMind had a chance to catch up with Nick today, and asked what he's been up to.

"I'm in the very early stages of starting a new business, partly with strongman Laurence Shahlaei," Nick said. "We should be opening our first custom coaching facility in this year. Small but effective, compact but brutal!"

Brutal is used a lot in training, but Nick hit the IronMind radar screen some years ago when he chopped through one of his fingers while doing some grip training with David Horne so they had to trot him off for some urgent medical attention; as soon as the doctors had finished up with Nick, he was back at David's and his primary concern was that he'd missed some of the workout.

"I'm also taking Beyond Strong to the next level with many changes to the look of the site. I'll be continuing to champion the greatest athletes on the planet whilst also providing innovative ways for anyone to train in the same manner and get dynamic results. Beyond Strong and its spin offs will kick in this year!

"On the film front I've been active in the final two Harry Potter movies right up until last November doing re-shoots and additional photography. I have a fight scene with Johnny Depp in the next Pirates of the Caribbean movie coming out later this year and I was involved in the pre-production stage of Captain America. I was the stunt and fight choreographer for a lot of video games and music videos last year as well. One of the best projects I was involved in last year was Ralph Fiennes' (Schindler's List, Red Dragon) directorial debut, Coriolanus, as his fight choreographer and personal trainer. I also performed a rather large bus explosion stunt which is featured in the movie.

"In April last year I was part of a 24 man Stunt Charity Fight night in London. We stepped up and got in the ring with seasoned fighters and fought for two charities close to our hearts.

"Firstly is Stanmore Spinal Unit. Harry Potter Stunt Double David Holmes was badly injured on set and is now in a wheelchair due to the serious nature of his injuries. Stanmore Spinal Unit were instrumental in his recovery. He is a personal friend of mine and many of the stuntmen who fought.

"The second charity is Children's Cancer. Two of my fellow stuntmen lost their teenage sons to cancer in the same month a few years ago. They both fought at the boxing fight night, showing true heart.

"In addition, Marvin Campbell, a former gymnastic Olympian (1992) and award winning stuntman, has produced a calendar showcasing all the fighters and the charities. If anyone is interesting in owning one of these totally unique and collectable calendars they can contact Marvin through Beyond Strong," Nick said.


###


Want to comment on this article or just want to talk strength? Join the IronMind Forum!

You can also follow IronMind on Twitter.