Strongman in Sequim: Remembering Jesse Marunde, Thanking the Community
Organized by John "Sarge" Allen to remember Jesse Marunde and thank the community for its support of strongman, some of the biggest names from the American strongman community came to Sequim, Washington; and IronMind's Elizabeth Hammond, who was on site for the first half of the contest, described it as "feeling like a big, happy family reunion."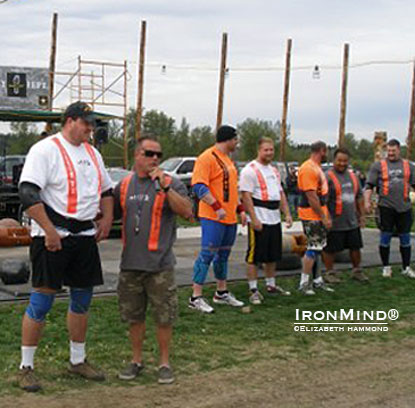 John "Sarge" Allen interviews Dave Ostlund at Sequim Strongman Showdown. IronMind® | Elizabeth Hammond photo.

2011 Sequim Strongman Showdown: Big Men, Big Hearts
by Elizabeth Hammond

Held at the 116th Sequim Irrigation Festival, the Sequim Strongman Showdown was like a big, happy family reunion. The strongmen came to remember their comrade, Jesse Dawson Marunde, and to give thanks to the community that has done so much for strongman; and the fans came to welcome and cheer on the athletes who made the long journey to their town.

The showdown was organized and ably run by John "Sarge" Allen, who said, "Strongman is alive and well in Sequim because of the goodness of the community. They support strongman—the community loves it. Plus, it's a chance to bring cool friends out for the weekend and hang out with them."

The cool friends include name-brand strongmen like Dave Ostlund, Karl Gillingham, Corey St. Clair, Kevin Nee, Van Hatfield, Grant Higa, and Brad Dunn, and a couple of local lads as well. Sequim, about a two hour drive from Seattle, Washington is off the beaten path, so the effort to be there is one of honor and commitment. "It's awesome, a good cause. I've wanted to come for 3 or 4 years. Sarge is great," was how Van Hatfield summed it up.

Karl Gillingham was "back by popular demand—everyone loves Karl," said Sarge of the Minnesotan strongman had made his third trip because, in his own words, "It's an honor to come to Sequim to represent strongman in a city that's important to the sport." Corey St. Clair also came "to remember Jesse. I still turn around and look for him." Corey was sans black nail polish this evening—he'd left it in his hotel room.

For Big Dave Ostlund, it was also the third time he had made the pilgrimage: "It's a chance to get together, do events, have a lot of fun. This is a tester for my knee; I had surgery a few months ago and have been rehabbing and recovering. Some of my training has been going well, some not, so this is to gauge the knee in a competition setting. I won't do all the events, just a few."

The events included a press medley, car deadlift, stones, yoke carry and truck pull. The JDM (Jesse Dawson Marunde) log was part of the press medley and according to Sarge, "Any time anyone lifts the log overhead it's a blessing and homage sent to heaven." Van Hatfield, whom Grant Higa noted was "one of the strongest pressers in the USA—my money's on him," returned to the JDM log after a successful run through the medley and pressed it again: "This last log is for Jesse—that's why I'm here."

Brad Dunn was the first to press the 390-lb. Big Dog log, noting that "this sucker sits on your chest and pushes the air out of you; it's mean and nasty."

Having fun, showing their stuff, the strongmen—and the community that embraced them—proved once again that strongman truly is alive and well in Sequim.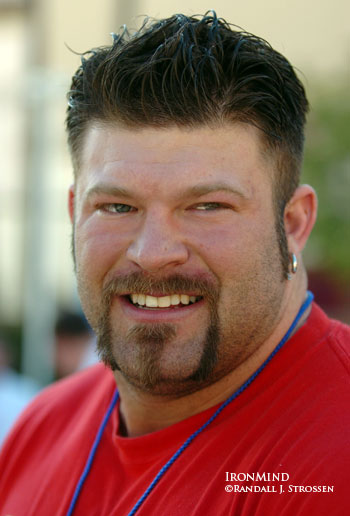 Jesse Dawson Marunde (1979–2007): Rest in peace, Jesse—we miss you! IronMind® | Randall J. Strossen photo.

###


The IronMind Forum: discuss this article, talk strength, get help with your training.

You can also follow IronMind on Twitter.