Strongman at Wembley Arena: "Something is Coming . . ."
Strongman Champions League co-founder Marcel Mostert and Ilkka Kinnunen are about as experienced as any active strongman promoters, but when the name Denim Bison popped up and was announced as the group putting on the Strongman Champions League - London contest, this aroused a lot of interest at IronMind®.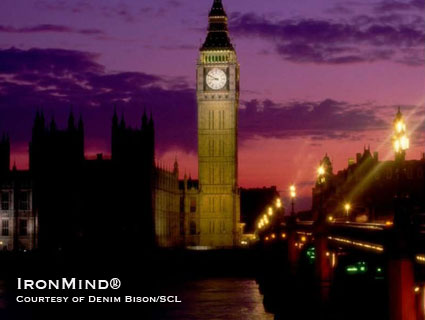 "Something is coming . . . that will shake London" - one element in the Denim Bison marketing mix is a series of trailers, such as this this one. IronMind®


"Who are these guys?" we asked, as we traded emails with Denim Bison principals Sandra Donskyte Marco Ruggiero - Ms. Donskyte is the event marketing manager and Mr. Ruggiero is the event manager. Between them, they are trying to break through the glass ceiling on arena-based strongman contests and along the way they kindly paused to answer a few questions for IronMind®.

IronMind®: Denim Bison - a great name - what caught your eye about strongman?

Sandra: I was caught by two ordinary guys back in Lithuania in 2005 who organized International Strongman Competition 'The Cekol Cup '05' under the 'Hercules Events Ltd.' roof. Apparently they needed a woman to help them manage these strongmen. I have to admit it was a hardcore school however collected invaluable knowledge about the industry and left so I could do my own comeback. Meeting Marco was a real blessing so we both united and are ready to rock the strongman world!

Marco: As far as the name goes, we wanted something that represented forward thinking. Sandra had a dream about bringing strongman to this country, and I remembered being a big fan of strongman when I was younger. Watching guys like Geoff Capes & Magnus Ver Magnusson was a great Sunday activity for me. When Sandra suggested about doing a strongman competition, it made me think in my humble opinion how strongman had dropped off the map a little since the glory days of the 80s. I relished the challenge of contributing what I can into the strongman scene.

IronMind®: Anything you'd like to say about other events you've promoted/your special skills/special interests?

Sandra: I have always been a very eventful person so organizing, promoting and participating in sporting, cultural and entertainment events is my natural speciality. The ISCL London '09 event is both my brightest and the biggest goal of this year. There was no and will not be such a challenge on the way to its achievement that would kill my enthusiasm and desire to make it.

Marco: I've promoted bands, gigs, products, myself & others for free. Now, my personal goal is to make the ISCL '09 into something which raises the bar as far as strongman goes, at an affordable price for everyone. The amount of challenges we've had to, and continue to, overcome in establishing this competition only serve to drive me on in my desire to succeed. That, being a qualified economist (helps with low budgets!), and apparently having a nice way with words tend to be how I contribute!

IronMind®: You seem to be taking this contest in a new direction - without giving away any secrets, what are you doing differently?

Sandra: We are concentrating on quality and creativity. This is crucial when changing the perception of strongman sport. We have just simply fallen in love with this event!

Marco: I just want to bring back the days where strongman was a respected sport. Without meaning to annoy too many people, I'm glad if we're doing something to shake up the industry a bit, as I feel the sport of strongman has a lot more potential that what currently exists. To be honest though, we're just very fortunate to have some amazing people around us helping us create our vision. Without them, none of this would be possible.

For full details on the SCL-London event, including ticket information, please visit the official Strongman Champion's League-London website.