Strongman and Grip Strength at the Finnish Fitness Expo
The Finnish Fitness Expo included WSF strongman and the IronMind® Grip Classic Semi-Finals this weekend, and, calling the action, Jyrki Rantanen filed a report with IronMind.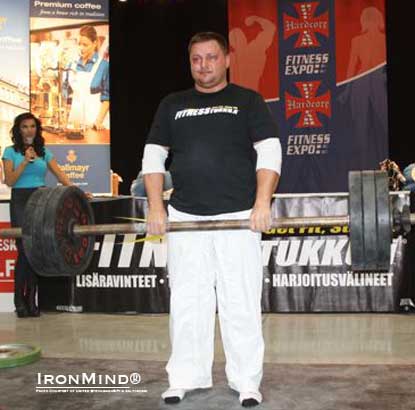 Competing in the IronMind Grip Classic Semi Finals in Finland, Aleksey Tyukalov pulled this winning 180-kg double overhand deadlift on the Apollon's Axle. Tyukalov also did 100.5 kg (missed 105.5 kg) on the Rolling Thunder. IronMind® | Photo courtesy of United Strongmen®/Piia Aaltokoski.


WSF World Cup Finland (9 September 2012)
by Jyrki Rantanen
United Strongmen

The competition was held at the Finnish Fitness Expo and the Power Stage area was packed full of audience when there gladiators filled the arena. We ran the show fast—5 events for strongman plus the Ironmind Grip Classic semi-finals—all in less than four hours.

The World Cup competition included Log reps with 130 kg, Super Yoke 330 kg, Sack Loading 120–150 kg, Deadlift for reps with a Volkswagen Caddy X and Farmer's Walk for distance with 134 kg in each hand.

The competition was a super battle between many guys as in the end the winner and second place had only 0.5 points difference and the top four were within 4.5 points of each other.

The Finns started strongly as Mika Jaakola dusted the field in the Yoke and the reigning Finland's Strongest Man, Jarno Jokinen, was leading the whole competition with two points after four events. But, this time the visitors went farther as 2-time Denmark´s Strongest Man Nicolai Hansen edged out Antanas Abrutis and Jokinen.

Final scores
| | | |
| --- | --- | --- |
| 1. | Nicolai Hansen (Denmark) | 14.0 |
| 2. | Antanas Abrutis (Latvia) | 14.5 |
| 3. | Jarno Jokinen (Finland) | 16.0 |
| 4. | Rolands Gulbis (Latvia) | 18.5 |
| 5. | Mika Jaakola (Finland) | 22.5 |
| 6. | Gunnar Gimbutis (Estonia) | 25.5 |
| 7. | Janne Aimasmaki (Finland) | 32.5 |
| 8. | Anders Lindbladh (Sweden) | 36.5 |
referees: Jyrki Rantanen (US) and Vadims Punegov (WSF)


IronMind Grip Classic Semifinals

The field of competitors was trimmed down to two women and seven men from the group of almost 20 qualified athletes—the reason was injuries, etc. in some cases, but also we had very rough starting weights to make sure we speeded up the competition and that also might scare some of the competitors out.

Anyway, the feeling was hot and the ladies were the brightest stars in Finnish gripster sky—Yvonne Häkkinen and Jaana Tanner. In the battle between them, they both were a little shy with super lifts today, but Jaana did a very good attempt with Apollon´s Axle for a new national record with 110 kg, but missed it just before full lock-out. In CoC Silver Bullet, Yvonne clocked 18.00 seconds with Captains of Crush (CoC) No. 2 gripper and as it has been in official competition under strict rules and trusted witnesses (75 % of top grip people in Finland) we respectfully request that IronMind open official records for women, too, and note Yvonne´s time as the first world record.


In the four-event battle, Jaana edged out by one point as the final points were:
| | | |
| --- | --- | --- |
| 1. | Jaana Tanner (Finland) | 5.5 |
| 2. | Yvonne Hakkinen (Finland) | 6.5 |
In the men´s class we had international colors as Alexey Tyukalov representing Russia and Eirik Ingebritsen and Torbjörn Farmen fighting for Norway against the Finns. Tyukalov was the strongest by winning all the events except Captain´s of Crush grippers with credit card rule—that one he tied with Timo Tuukkanen.
| | | |
| --- | --- | --- |
| 1. | Aleksey Tyukalov (Russia) | 4.5 |
| 2. | Timo Tuukkanen (Finland) | 11.5 |
| 3. | Juuso Siltakorpi (Finland) | 15.5 |
| 4. | Jani Kuusisto (Finland) | 18.0 |
| 5. | Eirik Ingebritsen (Norway) | 18.5 |
| 6. | Tuomo Anttila (Finland) | 21.0 |
| 7. | Torbjorn Famen (Norway) | 24.0 |
As the amount of competitors came down towards this competition we decided to bend our rules a little and we invited all of these athletes to the finals, which will be held during the Hämeenlinna Power Weekend, 24 November.


We also like to announce our open invitation to the finals for the following athletes: Juha Harju, Janne Virtanen and we are also locating the opportunities to have some international grip lady included to the show to give the Finnish ladies a run of their life :)

We are hungry to see more record in our tour and no one can doubt that the invited "extra" athletes are capable of producing some.

###

The IronMind Forum: discuss this article, talk strength, get help with your training.

You can also follow IronMind on Twitter.