Strongman, Strongwoman on Balatonlelle Beach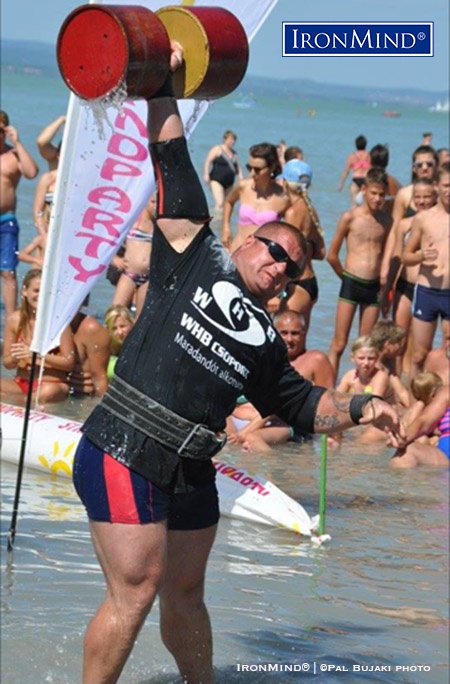 IHGF president Francis Brebner was on Hungary's Balatonlelle Beach for the strongman andwoman competitions run by Adam Darazs, and he called the action for IronMind.


Hungary's Balatonlelle Beach Strongman Challenge
by Francis Brebner
International Highland Games Federation (IHGF)
 
Hungary's Balatonlelle Beach Strongman international water challenge was a fantastic event held at one of Europe's top tourist destinations. Over the years many competitions have been held on the beach but this was different kind of challenge as all the events took place in the water. Seven athletes took part, including Nick Romero and Mike Salter, USA; Austin Sztajdocher, Canada; Lukas Svoboda, Czech Republic; and Zsolt Molnar, Janos Sebestyen, and  Erik Karacsondi, all from Hungary.

In the cylinder carry, athletes carried a 110-kg cylinder with handles on each side down a course of 10 m and back, a test of the athletes' stamina as they had to push their bodies through the water. The Hungarians prevailed in first through third: Molnar at 13.13 sec., Sebestyen at 15.32, and Karacsondi at 16.06.

In the overhead dumbbell press, athletes had a choice between pressing a 160-lb. or 176-lb. dumbbell for reps in 60 sec. Standing in roughly a foot of water, they lifted the dumbbell from the sand to the shoulder then pressed it overhead with one arm, and any 1 rep with the 176-lb. dumbbell beat anything done with the 160-lb. dumbbell. The Hungarians were hot, with a tie between Sebestyen and Molnar at 5 reps, with Karacsondi at 3 reps.
 
The keg over bar was a dynamic event to watch, with the strongmen throwing a series of six kegs weighing 25-lb. each over a bar 18' high and in a foot of water. The barrels were placed 5 m from the bar, so speed and a steady pace were the key elements. The Hungarians again shared the podium with only tenths of a second between them: Molnar at 16.10 sec., Sebestyen at 16.32, and Karacsondi at 16.56.

Heaving the 180-lb. tire for reps over a 4' high bar in 75 sec. in a foot of water was made harder as the tire was filled with water, creating an imbalance and requiring max-cardio efforts. Romero took the early lead with 9 reps, which was then matched by Molnar and Karacsondi.
 
Finally, the strongmen picked up a 100-kg Atlas stones to the shoulder for reps in 60 sec. The fans gathered around for the last event to cheer for the athletes, creating a great atmosphere. Most athletes completed 2 reps but Molnar stole the show with 5 reps to clinch the event win and the overall title. Sebestyen did 4 reps and Karacsondi 3.
 
Final placings
1. Zsolt Molnar (Hungary)      33.5
2. Janos Sebestyen (Hungary) 26
3. Eric Karacsondi (Hungary) 27.5
4. Nick Romero (USA)           21.5
5. Lukas Svoboda (Czech Republic)  16
6. Mike Salter (USA)  8.5
7. Austin Sztajdocher (Canada)          6
 
 

Hungary's Balatonlelle Beach Strongwoman Challenge
by Francis Brebner
International Highland Games Federation (IHGF)
 
Four strongwomen, including Liefia Ingalls (USA), Mirtill Lachmann (Hungary), Adriana Germano (Romania), and Jana Vaskova (Slovakia) competed in the Balatonlelle Beach Strongwoman international water challenge in four events.
 
In the deadlift for reps, athletes had 60 sec. to deadlift 200 kg as many times as possible, from rubber mats on the sand. Vaskova won the event with 6 reps; Ingalls and Germano tied on 3, with Lachmann doing 2.
 
In the tire carry, athletes carried and lifted 3 tires, ranging from 120 lb. to 180 lb., over a 4' high bar in a medley done over a 6-m course in 75 sec.—all in a foot of water. Ingalls set the best time with 27.66 sec., followed by Vaskova at 29.97, Lachmann at 39.22, and Germano at 44.52.
 
In the 200-kg tire flip, athletes had 60 sec. to complete 4 flips as quickly as possible. Vaskova set a fast time of 19.66 sec., and Ingalls fell short with 23 sec. Germano finished in 27.68, and Lachmann in 34.41.
 
In the final event with the 73-kg natural stone, athletes had 60 sec. to complete as many reps as possible over a 4' bar, again in a foot of water. Vaskova did 9 reps for the win, followed by Ingalls with 7 reps, Germano with 6, and Lachmann 1.

Final placings
1. Jana Vaskova (Slovakia)     15
2. Liefia Ingalls (USA)           12.5
3. Adriana Germano (Romania)          7.5
4. Mirtill Lachmann (Hungary)           5

Asking promoter and IHGF vice president Adam Darazs about the competitions, he said the athletes put up great all-round performances and the spectators loved it: "Everywhere we go in Hungary, whether it be strength events, Highland games, or stones of strength, it is all very well received, with a huge following."
 


Jana Vaskova (Slovakia) knocked off 9 reps with this 73-kg stone at the Balatonlelle Beach strongwoman competition.  IronMind® | Photo courtesy of Pal Bujaki

                                                        ###



You can also follow IronMind on Twitter, Instagram and on Facebook.                        



Want to talk grip, strongman, weightlifting . . . everything strength? Visit the IronMind Forum.