Strongman Fans: "Knock, Knock"
"Who's there?"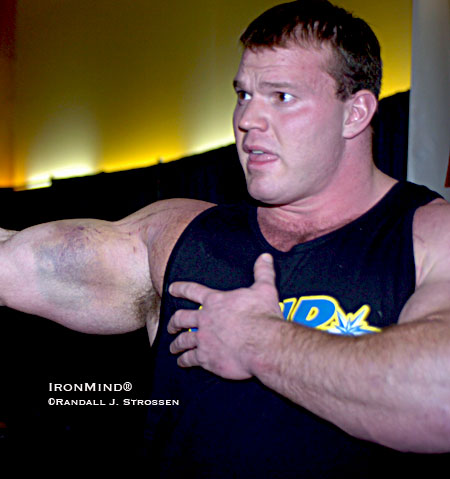 A torn pec didn't keep Derek Poundstone from doing major damage at the Arnold Strongman contest earlier this year, and Bill Kazmaier is continuing to be impressed by Derek, who is his pick to win the Super Series Grand Prix at Madison Square Garden next month. IronMind® | Randall J. Strossen photo.

"Hear that? That's me knocking on this table in my hotel. That's how hard Derek Poundstone is," Bill Kazmaier told IronMind® yesterday. Bill Kazmaier was early to predict Derek Poundstone's ability to win the Eleiko Super Series Mohegan Sun Grand Prix, which was spot on, and that's when Bill came up with the line about the last time he'd seen traps like Derek's (". . . 25 years ago . . . when I was looking in the mirror").

And now, Bill's putting his money on the same horse for the Super Series Grand Prix at Madison Square Garden's WaMu Theater on June 21. The most Bill will concede is that "maybe Travis Ortmayer has a chance to do something," but other than that, as far as Bill Kazmaier is concerned, it's all Derek Poundstone.

"Competing the way he did at the Arnold, with a ripped pec . . . He's a warrior," Bill said.