Strongman Champions League: World Log Lift Championships
It might not be in there with the Atlas Stones or a Truck Pull, but the image of a huge guy lifting a "log" has its roots in strongman going back at least as far as the 1980 World's Strongest Man contest, where the mighty Bill Kazmaier hoisted 157 kg, and from there, things have just grown.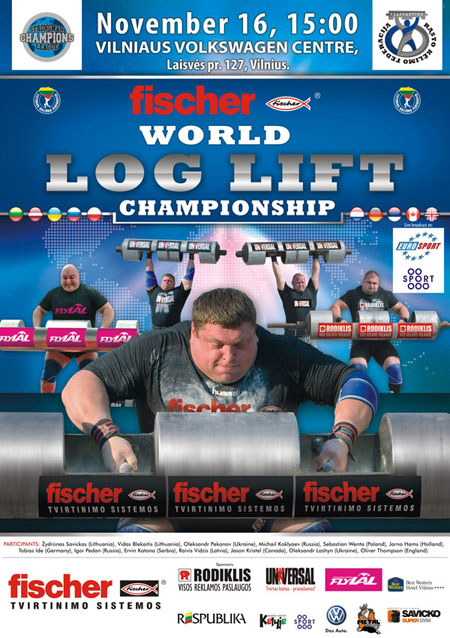 This weekend, Zydrunas Savickas has a chance to break his own world record in the log lift for the third time this year. IronMind® | Artwork courtesy of Ilkka Kinnunen.

Following Kazmaier moving the top lift from 157 kg to 170 kg over the next eight years, according to research by Paul Ohl and Marcel Mostert, the mantle of the world's best on the log was passed to Jamie Reeves, always known for his strong shoulders. Reeves got the top mark up to 180 kg in 1992, where it stayed for a decade until Svend Karlsen slapped another 5 kg on the record in 2002, and then Raimunds Bergmanis raised it another 5 kg in 2003.

With that prelude, the age of Zydrunas Savickas was ushered in, and the Lithuanian strongman wasted no time bringing the record to 200 kg in 2004, 205 kg in 2006 and this year, so far, he has broken the record two more times, with marks of 207.5 and 210.

Earlier this year, Zydrunas told IronMind® that he expected to do 212.5 kg next, so keep your eyes on the ball this Sunday and see if the Big Z gets his Big 3 in 2008.

With a couple of last minute changes in the competitor lineup due to injuries, here's who is on board for the inaugural Strongman Championship League World Log Lift Championships:

Zydrunas Savickas (Lithuania)
Mikhail Koklyaev (Russia)
Ervin Katona (Serbia)
Sebastian Wenta (Poland)
Oleksandr Lashyn (Ukraine)
Tobias Ide (Germany)
Agris Kazelniks (Latvia)
Oleksandr Pekanaov (Ukraine)
Krzysztof Radzikowski (Poland)
Saulius Brusokas (Lithuania)

Marcel Mostert, who is picking Zydrunas Savickas, Kryzytof Radzikowski and Mikhail Koklaev for the podium, was unrepentant in his optimism about this weekend's event.

"We are looking forward to the first live strongman event ever broadcast in 52 countries," Mostert told IronMind®. And with the log lift world record in serious danger of being axed, Mostert called it like this: "Again a new standard for log lifting will be established with this world championship, and I predict it will inspire a lot of strongman to go in a few years to 225 kg . . . which will mean that if you are under 200 kg, you are not a top log lifter anymore!"