Strongman Champions League - London: Spotlight on Zydrunas Savickas
Having just added a title sponsor (Lebara Mobile) is no reason for Denim Bison representative and Strongman Champions League - London event organizer Sandra Donskyte to rest on her laurels: instead, last week she was off to Lithuania, where she "caught up with the Big Z [Zydrunas Savickas] in Vilnius, at his personal gym."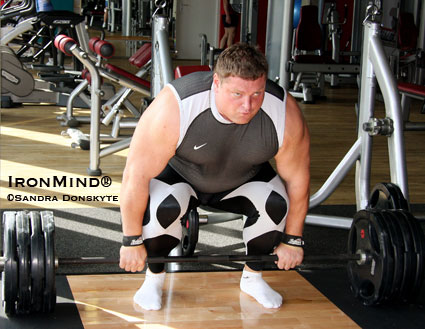 Zydrunas Savickas in his office. IronMind® | Photo courtesy of Sandra Donskyte/Denim Bison.

In Sandra's words, she was there "to see how this strongman sweats before the two biggest events of the year," referring to the World's Strongest Man contest and the Strongman Champions League - London contest.

Here's an entry from Sandra's journal:

Lithuania. Vilnius. Zydrunas Savickas' gym. Friday. Midday. Training for deadlift lasting 3 hours. Loads of water. Loads of sweat. Very little emotions. No stress. You can only see the challenge of added kilograms: 100kg . . . 200kg . . . 300kg . . . 400kg. The aura of a real powerful man. The strongman will train for the Atlas Stones event in the other Lithuanian town with his like-minded friends on Saturday. Sunday is a day off for sport.

And as far as the title sponsor goes, Strongman Champions League - London announced, "SCL '09 is sponsored by LEBARA MOBILE! Lebara offer some excellent packages for mobile users, both domestically & when calling internationally! Lebara Mobile keeps prices simple with flat rates & no hidden charges, & offers free calls between Lebara users! Additionally, for those of you calling Eastern Europe, calls are only 2p per minute presently! Hurry now as this offer ends on 30 November 2009!"

For more on Sandra's visit with the Big Z and full event details, please visit the official Strongman Champions League - London website.