Strongman Champions League - Holland: Competitors and Events
Continuing on its roll, Strongman Champions League stops in Holland this weekend, bringing the world's most active professional strongman tour to SCL cofounder Marcel Mostert's homeland.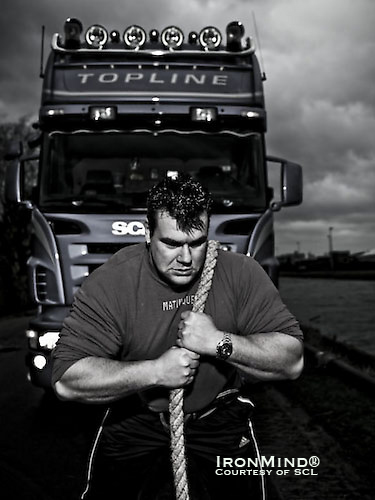 Holland's Jarno Hams is returning to strongman competition this weekend, at SCL-Holland. IronMind® | Courtesy of SCL.


"This coming Sunday, the 6th stage of SCL will be happen in Holland, in a little place called Ulft," Marcel Mostert told IronMind®.

"The SCL Holland has an impressive line up again with athletes from all over the world.
And also [Holland's own] Jarno Hams will make his comeback after a big leg injury, happened exactly one year ago in the SCL–Holland 2009."
Athletes:
1. Warrick Brant (Australia)
2. Etienne Smit (South Africa)
3. Konstantin Ilin (Ukraine)
4. Agris Kazelniks (Latvia)
5. Fabrice Barbier (France)
6. Misha Koklyaev (Russia)
7. Jani Kohlemainen (Finland)
8. Ervin Katona (Serbia)
9. Travis Ortmayer (USA)
10. Jimmy Laureys (Belgium)
11. Simoin Sulaiman (Holland)
12. Jarno Hams (Holland)
13. Alex Moonen (Holland)
Events:
1. Rock Lift Medley: 110, 120, 125, 130 kg
2. Truck Pull

3. Atlas Stones: 120, 140, 150, 160, 170 kg
4. Conan's Wheel: 340 kg
5. Carry and Drag: 200-kg block and 300-kg chain
6. Loading

"Also, at Friday evening at 9:30 p.m. [21.30 hours], SCL–Germany will be broadcast on Eurosport," Mostert said. "So, it will be a great Champions League strongman weekend again!"

Want to talk strength? Join the IronMind® Forum!

You can also follow IronMind® on Twitter.