Strongman Champions League: Holland
The next stop for the Strongman Champions League is Terborg, Holland on June 14, Marcel Mostert told IronMind®, featuring, "A very international field with athletes from all continents."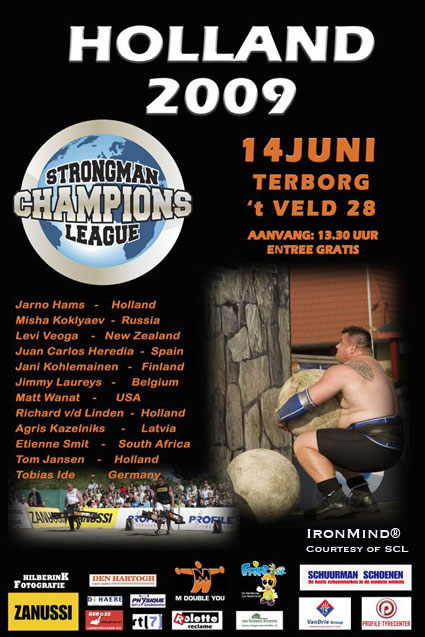 Strongman Champions League is coming to Terborg, Holland this next weekend. IronMind® | Artwork courtesy of Strongman Champions League (SCL).

Having such a broad cross-section of top strongman competitors "will quarantee a great event with performance and fun of a high standard," Mostert said.

This year, sponsorship money has been scarce for strongman contests, resulting in fewer competitions and slimmer purses on the professional strongman circuit, but the Strongman Champions League has set itself apart with its full calendar and robust prize lists. To date this year, the Strongman Champions League has already paid out 30,000 euros in prize money and this coming weekend, it is already holding its fourth contest of the year, quite a feather in the caps of Strongman Champions League founders Marcel Mostert and Ilkka Kinnunen.

"Of course we suffer because of the [financial] crisis as well, but with the [Strongman] Champions League we don't want to cut on long flights from all continents, we do pay the standard prize money of 10,000 euros [per contest], and we do make the highest quality of filming in Holland with six cameras as we always did. We are assured that this is the only way to make our Strongman Champions League better and stronger every year," Mostert told IronMind®.

Here are the competitors:

Jarno Hams Holland
Misha Koklyaev Russia
Levi Veoga New Zealand
Juan Carlos Heredia Spain
Jimmy Laureys Belgium
Matt Wanat USA
Jani Kohlemainen Finland
Agris Kazelniks Latvia
Etienne Smit South Africa
Tobias Ide Germany
Richard van der Linden Holland
Tom Jansen Holland

Here is the official list of events:

Truck pull
Fridge loading
Atlas stones
Weight for height
Medley (yoke race, wheel flip, objects)
Log lift for maximum

Start time is 1:30 p.m. (13:30 hours).