Strongman Champions League Coming to the Arnold Classic–Europe
SCL co-founder Marcel Mostert told IronMind today, "We are proud to announce that the Strongman Champions League (SCL) signed contracts with the Arnold Classic and ASC from Dione Wessels, to do the first Arnold Classic for professional strongman together in Madrid – Spain at 13 and 14 October!"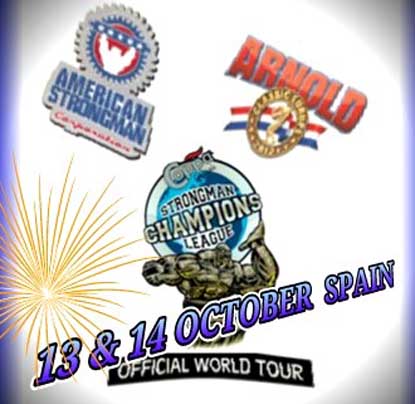 SCL and ASC will be part of the inaugural Arnold Classic–Europe. IronMind® | Artwork courtesy of ASC.


"The Arnold Classic-Europe is a joint venture between former Governor Schwarzenegger, Jim Lorimer, Arnold Sports Festival co-promoter, and Dr. Rafael Santonja, the president of the International Federation of Body Building. Strongman Champions League and ASC have joined in as well here to make the Strongman part to a success," said Mostert.

Ilkka Kinnunen, Dione Wessels ,Marcel Mostert and Terry Todd will be the referees and officials, according to the official SCL statement, and "the best athletes from SCL and WSM (World's Strongest Man) will take part.

"The competition will be done over two days and six events. The whole competition will be filmed by SCL and broadcast in 85 countries in the world as it will be implemented in the Strongman Champions League series 2012. The winner of the Arnolds Europe will also deserve a place in the next prestigious Strongman Champions league competition 2012."

"Because of broadcasting in 85 countries, the Arnold Europe will be made a bit different than the Arnolds in Ohio as usual," Mostert said.

"It will contain more speed, action and show elements, to make it a great TV show," Mostert said. "SCL knows how to do this.

"Special thanks to the main sponsors MHP and Coppa Cocktails who took their responsibilities in our sport and gave the final kick off for this great event."

Here is the official start list:

1. Zydrunas Savickas
2. Brian Shaw
3. Terry Hollands
4. Mike Jenkins
5. Ervin Katona
6. Hafthor Bjornson
7. Mikhail Koklyaev
8. Lauri Nami
9. Krzystof Radzikowski
10. wild card

###

The IronMind Forum: discuss this article, talk strength, get help with your training.

You can also follow IronMind on Twitter.