Strongman Champions League Coming to Kokkola, Finland
"The biggest strongman competition in Finland this year will take place next weekend in Kokkola," according to the official press release, which IronMind® has just received.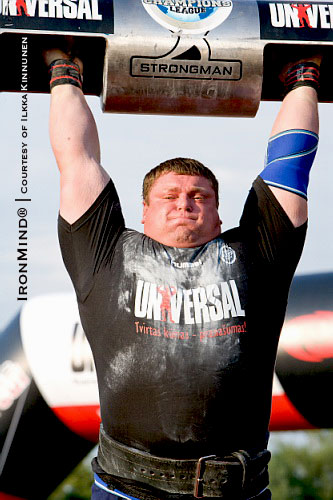 It might be set in a festival of light, but don't think the weights will be anything but heavy at the Strongman Champions League competition in Kokkola, Finland. Zydrunas Savickas, shown with a 210-kg log, is among the star-studded field. IronMind® | Photo courtesy of Ilkka Kinnunen.

This competition is being organized by Fitness Media, along with the Strongman Champions League, and it is part of the Venetian Night Festival, which "will bring around 20,000 people to the town square to watch the competition and listen the top artists in Finland."

"The athlete list is looking good," according to Ilkka Kinnunen, with "Zydrunas Savickas, Ervin Katona, Misha Koyklajev, Bradley Dunn, Agris Kazelniks, Oleksandr Leshyn, Jarno Hams, Saimon Sulaiman, Sergii Koniushok, Farzad Mousakhani and a Finnish athlete [still to be named]," comprising the start list.

On Friday, the events will be:

Atlas stones (120 - 180 kg)
Truck pull (harness and rope)
Log medley (120, 140, 160 and 180 kg, for time)
Weight for height

Saturday's events are:

Ship pull (arm over arm)
Deadlift (for reps)
Medley (farmer's walk with 150 kg/hand, 15 meters + box loading, 3 x 100 kg)