Strongman Champions League Announces Its 2011 Calendar
Strongman Champions League (SCL) is flexing its muscles as it has just announced a 12-contest season for this year, with total prize money of US$250,000.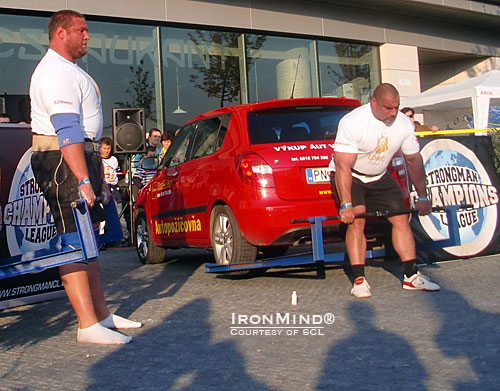 Head-to-head competition featuring top strongman competitors is something you can expect to see Strongman Champions League deliver. Here, Terry Hollands (left) and Ervin Katona (right) match up in the car deadlift. IronMind® | Courtesy of SCL.


Now in its fourth season, SCL was launched by Ilkka Kinnunen and Marcel Mostert, both of who began organizing strongman contests in 1993 and between them have been involved in organizing close to 1,000 strongman competitions.

But it's not just about quantity and numbers - its also about quality, as SCL competitions feature the top names on the professional strongman circuit, are held in a wide range of countries and might be set anything from metropolitan expos to rugged outdoor settings, in weather that might be perfect, freezing cold or blazing hot.

No wonder Marcel Mostert can say, "After three years, SCL has proven that we're a consistent, strong and professional organization, ready to step into the fourth year with even bigger goals. That's why we are so proud that we can launches this calendar with much confidence."

Here it is officially, the 2011 SCL calendar:
| | |
| --- | --- |
| 12 Feb | SCL Log Lift World Championships - Lithuania |
| 19 Mar | SCL Iceman - Lapland |
| 16 April | SCL - FIBO |
| 15 May | SCL -Serbia |
| 28 May | SCL - South Africa |
| 04 June | SCL- Finland |
| 19 June | SCL - Holland |
| 26 June | SCL - Bulgaria |
| 23 July | SCL - Martinique |
| 30 July | SCL - Russia |
| 13 Aug | SCL - Team Nations - Ukraine |
| 21 August | SCL - Spain |
| 10 Sept | SCL - Slovakia |
| ?? Oct | SCL - Finals - Ukraine |
In addition, Mostert told IronMind that, "105-kg championships, team contests and specials may be added later on this list."
For full details on SCL, please visit their official website.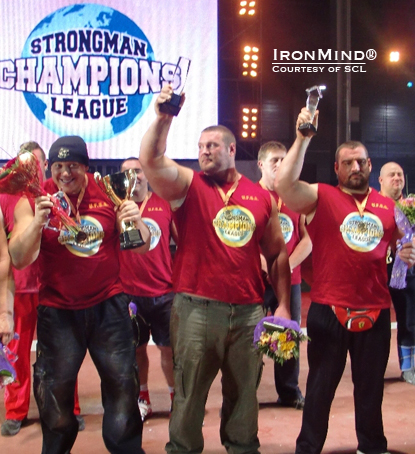 Terry Hollands (center) was the 2010 SCL overall champion. Misha Koklyaev (left) was third and Ervin Katona (right) was second. Terry just won at the FitExpo and is on his way to the Arnold. Who will be the 2011 SCL season winner? IronMind® | Courtesy of SCL.


###


Want to comment on this article or just want to talk strength? Join the IronMind Forum!

You can also follow IronMind on Twitter.