Strongman Champions League: 2009 Season Starts in Serbia
May 9 is the big day for the 2009 edition of Strongman Champions League. as the season starts in Sobotica, Serbia.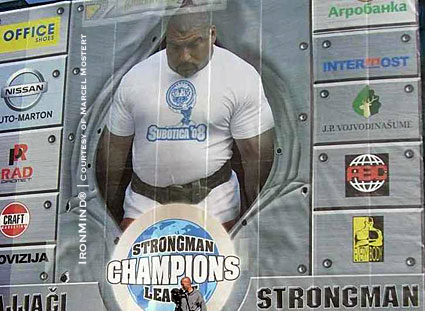 Strongman Champions League is ready to roll in 2009 and opening day will be May 9 in Sobotica, Serbia. IronMind® | Image courtesy of Marcel Mostert/Strongman Champions League.

Here is the official start list:

1. Misha Koklyaev (Russia)
2. Travis Ortmayer (USA)
3. Ervin Katona (Serbia)
4. Andrus Murumets (Estonia)
5. Agris Kazelniks (Latvia)
6. Tobias Ide (Germany)
7. Jarno Hams (Netherlands)
8. Simon Sulaiman (Syria)
9. Szabo Zsolt (Hungary)
10. Martin Wildauer (Austria)
11. Igor Mitrovich (Serbia)
12. Radojca Marinkovic (Serbia)

The events are: Atlas stones, weight for height, log lift (reps, 135 kg), farmer's walk (160 kg), deadlift and car pull.