Strongman: "All Together Now"
The World's Strongest Man (WSM) contest starts next month and for the first time in several years all the major players have a chance to strut their stuff in the competition that created strongman.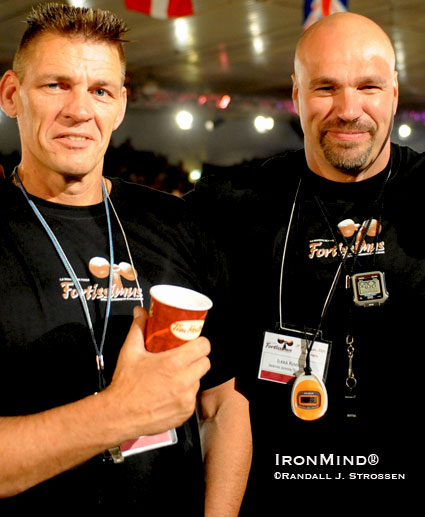 Marcel Mostert (left) and Ilkka Kinnunen (right) - the founders of Strongman Champions League, armed with caffeine, stop watches and whistles - ready to referee at Fortissimus earlier this year. IronMind® | Randall J. Strossen photo.

No more partisan conflicts are splitting the field and keeping some guys out of WSM just because of a line drawn in the sand, and even with there being just one official qualifying tour for the World's Strongest Man contest (Giants Live), the unifying effect of this preeminent strongman contest is evident.

"Because a lot of athletes are going to WSM, we decided to start our train again in October," Strongman Champions League (SCL) co-founder Marcel Mostert told IronMind®, something that he said also took into account the soft economic climate that has been weakening sponsorship opportunities worldwide.

"On 10 October, we will continue with the next stage of SCL Spain. Thereafter, at 18 October, the SCL England will be, and on 31 October, the SCL Hungary. These dates are new, but sure to happen. We hope to have the final stage at 25 November in China, but this can still be delayed to December this year. The organization of SCL keeps you informed!," Mostert said.

"Meanwhile, all the athletes can focus themselves on the WSM in Malta where we are happy to be a supplier this year with good athletes who competed very well this year in SCL. We keep hard working, for the benefit of all strong athletes in the world!" said Mostert.

And speaking of SCL - London, Denim Bison's event marketing manager, Sandra Donskyte, told IronMind®, "We are successfully going ahead - the event will happen on the 18th of October, at Wembley Arena, London," and the first of a series of promotional video clips has been released.